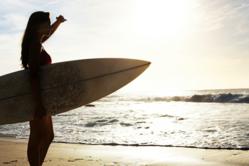 The Surfing to Recovery program at Sure Haven Addiction Treatment Center offers a unique and effective way for clients to find a sense of control, inner peace, and inspiration—essential ingredients for recovery.
Costa Mesa, CA (PRWEB) March 27, 2013
For many people, surfing the ocean's waves offers excitement, thrills, and the chance to conquer their fears amidst the splendor of nature. Now, Sure Haven, a Southern California addiction treatment center exclusively for women, is harnessing the liberating powers of the waves to help its clients recover from their addictions.
The Surfing to Recovery program at Sure Haven Addiction Treatment Center offers a unique and effective way for clients to find a sense of control, inner peace, and inspiration—essential ingredients for recovery.
Surfing is one of the treatment programs at Sure Haven, which offers a variety of treatment approaches and elements, including psychodrama, group therapy, adventure therapy, and family therapy, to treat clients dealing with alcohol dependency, drug addictions, eating disorders, and other issues.
A requirement for the Surfing to Recovery program is basic knowledge of swimming. For surfing newcomers, Sure Haven offers one-on-one lessons to teach the basics, learn how to use the equipment, and to go over safety guidelines.
"Surfing is a way of life, rich with history and culture," says Jan Zimmerman, clinical supervisor at Sure Haven, and part of the team that facilitates the program. "Some believe it is a religion and a connection spiritually to the universe. It is not a competitive sport by nature, but for some surfers, a way to be one with nature."
By successfully being in tune with the seemingly irrational, but actually rhythmic, undulation of the waves, she says, surfers often leave the water with more respect for the ocean and an improved perspective on life. A surfer who shows a healthy respect for the ocean would enjoy slicing through the waves and experience some of the most powerful and exhilarating sensations ever, while a surfer who neglects to show respect for the ocean may find themselves immediately put in their proper place.
"This in itself has proven to be a powerful experience for 'grimmies,' or new surfers, because it is so contrary to anything a newly recovering addict has ever experienced. They usually come out of the ocean going, 'wow, I loved that and I want to do it again,'" says Zimmerman.
The surfing program taps into a common principle in recovery: "My higher power wasn't lost, I was." Surfing provides for some a spiritual connection with a higher power, allowing them to realize that their higher power has not abandoned them but has been waiting for them to return from the depths of addiction and regain a life that is filled with faith and hope.
Zimmerman, who started surfing while growing up in Long Beach, herself struggled with addiction, and found her rediscovered love for surfing to be an instrumental part of her road to recovery. "As my recovery progressed, I began to remember the things in my life that gave me happiness, and I returned to surf. Surfing helped me reconnect with a power greater than myself," she says.
At Sure Haven, the concept of treating the whole person is part of the recovery process. Clients engage in activities that include daily meditation, yoga, and gym sessions three times a week. These activities also help women condition their bodies if they wish to take part in the Surfing to Recovery program. Experienced and first-time surfers are welcome to take part in the surfing program, and, as long as they can swim and have prepared, all are encouraged to try.
The full-service center is in an ideal location near the freeways and transportation hubs, yet minutes from some of the best beaches in Southern California.
To find out more about Safe Haven's Surfing to Recovery program, please call (877)-350-9382 or visit http://www.surehavensober.com
About Sure Haven Addiction Treatment Center
Sure Haven, Orange County's Addiction Treatment Center, is part of the Solid Landings Behavioral Health line of services. It is committed to providing a gender-specific, supportive, safe, and structured treatment environment where young women can embrace life-long sobriety, repair physical, emotional, and social damage caused by substance-related and behavioral addictions.
Sure Haven's goal is to help women in recovery build the life skills and self-esteem that they have lost through destructive, self-limiting behavior, and addiction. Through addiction treatment programs, every young woman in care can re-establish control of her life and achieve the success in the new beginning that awaits her.