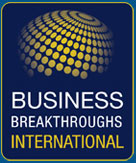 Nowadays, if you can't be found on the Internet, it's like you don't exist
Pasadena, CA (PRWEB) March 26, 2013
In today's search-based world, for a business to have its website be found by search engines is an essential part of any marketing strategy. Business Breakthroughs International, a company founded jointly by Tony Robbins and Chet Holmes, recently expanded its Internet marketing division to include new, affordably priced SEO services.
In the past, businesses have relied on word-of-mouth referrals and traditional advertising to reach consumers. In today's decentralized, information-overloaded world, these tactics are no longer enough. Various studies have pointed to the ineffectiveness and lack of penetration from traditional media like print advertising, pay-per-click, radio, and TV ads. While 80 percent of users avoid the paid ads, websites found in the first page of search results have a high click-through rate. As more and more individuals turn to search engines to research and find out about businesses and products, no company can afford to ignore search engine optimization. SEO is the practice of increasing a website's visibility in the search results through both on-page and off-page factors.
The issue is that most companies either lack the time or technical expertise to optimize their websites. Optimizing for SEO is much more than simply creating a blog or churning out content or creating a company Facebook page. Many on-page factors like creating optimized meta tags, link functionality, and site structure require a technical understanding of what search engines look for and can have a huge impact on a business's website's ability to be found. Google relies on "signals" that a website is popular or important to determine how highly to rank a website, including site functionality and the type of websites that are linking to it. Sites that are able to align themselves with what search engines are looking for will rank on the first page, but the ability to do everything correctly and consistently often goes beyond the understanding of most business owners, or even webmasters.
Business Breakthroughs recently released a comprehensive SEO service, designed to help sites rank in the organic, or unpaid, results. Its SEO service includes keyword research and competitive analysis to review a site's current standing in the eyes of search engines. The next step will include BBI's team of experts conducting a complete review of the site's code and link structure to ensure that everything is functioning correctly and fully optimized. Significant off -page activity like content generation and link-building will also be done to signal to search engines that the site is relevant, important, and should be ranked highly.
"Nowadays, if you can't be found on the Internet, it's like you don't exist," said Marc Pearl, CEO of Business Breakthroughs International. "Google looks at literally hundreds of different factors in determining how to rank a site, and it's difficult for most businesses to know how to optimize for all of them. Our services ensure that your website is meeting every one of those ranking factors and, most importantly, doing it over a consistent basis. Getting businesses to the top of search results is what I am most passionate about."
Business Breakthroughs International offers a wide variety of products and services to help businesses to grow and prosper in any industry or economic climate.
Connect with Business Breakthroughs International via LinkedIn and Facebook.