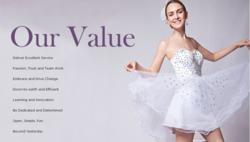 Dresses1000 is giving great price reduction on their women's dresses.
(PRWEB) March 26, 2013
Dresses1000, a popular online store for women's dresses, has just announced their new arrivals - vintage evening dresses. Sherri Wang, CEO of this company, say that they will launch new designs weekly to enrich their solution line.
These new vintage evening dresses can be found in a wide range of attractive designs. The design team from Dresses1000 has embedded the latest trends in this collection, so that females can discover their dream dresses (like elegant A-line sleeveless vintage evening dresses, or attractive V-neck vintage evening dresses, and more) easily to display off their ideal features.
Sherri Wang says, "As an important form of formal dresses, evening dresses could be the appropriate options when you are attending events on which formal dresses are important. Buying evening dresses from Dresses1000 is a smart decision. All the dresses provided here are of affordable prices for women, who can own their dresses by spending not too much."
Along with the vintage evening dresses, Dresses1000 is offering great discounts on their women's dresses, which include regular wedding guest dresses, little black dresses, sequined prom dresses, beautiful bridesmaid dresses, lovely cocktail dresses, and much more. In addition, custom wedding dresses and plus size wedding dresses are also available at Dresses1000.com.
About Dresses1000.com
Founded in 2005, Dresses1000.com is providing extensive and stylish collections of wedding dresses and other special-occasion dresses at acceptable low prices, and its products include wedding dresses, cocktail dresses, prom dresses, and more. The company is trying to offer their customer more choices with affordable prices, and they accept customer's own designs as well.