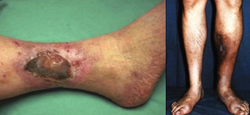 Through this screening event, we hope to educate the community...
Winston-Salem, NC (PRWEB) March 26, 2013
Most comprehensive program of its kind to detect venous disease
Today, March 26, 2013 during "National Deep Vein Thrombosis (DVT) Month," Salem Skin & Vein Specialists, a Novant Healthcare Partner, will take part in the country's largest, most comprehensive national screening program for venous disease. Sponsored by Salem Skin & Vein Specialists, the screening is an early detection program dedicated to improve vein health. As part of this nationwide public service program, Salem Skin & Vein Specialists, along with other organizations, will conduct a free, comprehensive venous screenings for thousands of Americans across the country. Diseases of the leg veins kill and cripple thousands of Americans every year:

Dangerous blood clots form in the leg veins of more than 2.5 million Americans each year.
These blood clots can break loose and travel to the lungs, killing up to 200,000 Americans each year.
10 - 35% of adults have leg veins that do not work properly.
Half a million Americans have ulcers in their legs caused by diseased veins.
While everyone knows the importance of heart disease, few people appreciate the seriousness of major venous diseases. Even fewer are aware of the simple, non-invasive tests widely available to detect these diseases. The experts at Salem Skin & Vein Specialists have created a screening program to educate the public about venous healthcare problems, risk factors, prevention, and treatment options.
"Through this screening event, we hope to educate the community about vein disease problems, risk factors, prevention and treatment options," said Dr. Raymond Workman, Co-Founder and Medical Director of Salem Skin & Vein Specialists. "We will give participants the individualized information they need to help determine their specific vein health issues," he said.
Salem Skin & Vein Specialists is one of more than 100 specialized venous centers this year that will perform this unique screening program. This program will assess the venous health of all participants and detect venous disease by scanning for venous reflux, examining legs for changes related to venous disease, and assessing the risk of developing a blood clot in the veins.
The screening is non-invasive, painless, and risk-free. It will include a medical questionnaire, a professional examination of the legs, and a brief ultrasound scan of the leg veins. Educational materials on venous diseases and their prevention and treatment will be distributed to participants at the time of the screening. Each participant is seen by a physician or other vascular healthcare professional with expertise in venous problems.
Individuals with swollen, achy legs, bulging varicose veins, spider veins or discolored skin around the ankles or skin ulceration in the legs or those with family history of venous insufficiency are encouraged to make a screening appointment.
Those who are interested in learning more about venous disease and the tests and treatments can call 336.796.7600 at Salem Skin & Vein Specialists.
About Salem Skin & Vein Specialists
Salem Skin & Vein Specialists is the foremost provider of customized, state-of-the-art care in Winston-Salem, North Carolina for the treatment of vein disorders and minimal aesthetic skin conditions. Salem Skin & Vein Specialists has a team of expertly trained and caring health professionals and skin therapists who understand venous disease, address patient's concerns and increase the hopes for restored health and wellness, and offer the most comprehensive treatments available.
"Our promise to you is simple, we will provide you with the utmost quality care, focus on you as an individual and always strive to make sure your healthcare needs are met." said Dr. Raymond Workman.
About Ray Workman, MD
Dr. Workman is a native of North Carolina having been born and raised in Charlotte. He attained his B.S. degree from Clemson University and his M.D. degree from the Uniformed Services University of the Health Sciences in Bethesda, MD. He then completed his general surgery internship/residency at Eisenhower Army Medical Center in Augusta, GA. He served in the United States Army as a general surgeon at the 121 General Hospital in Seoul, Korea before returning to Walter Reed Army Medical Center where he completed his vascular surgery fellowship. His training included intensive exposure to complex venous disease, which is rare for most vascular surgery fellowships. Following his fellowship, Dr. Workman was stationed at William Beaumont Army Medical Center, El Paso, TX where he eventually served as the Chief, Vascular Surgery. He also ran an independent vein practice in El Paso. Dr. Workman joined Salem Surgical Associates, PA in Winston-Salem in 2004 after leaving the army as a Lieutenant Colonel.
Dr. Workman is board certified in vascular surgery by the American Board of Surgery. He is one of only 4 board certified private practice vascular surgeons in Winston-Salem. He has been instrumental in developing Salem Skin and Vein Specialists into a well-known center for expert vein care. He and his colleagues provide cutting edge, state-of-the-art service for everything from spider veins, to varicose veins, to complex venous disorders. Dr. Workman has continued to stay focused on the latest treatments for vein disease by attending national meetings of the American Venous Forum and the American College of Phlebology. He is one of very few vein experts in Winston-Salem who can offer the entire range of treatments for venous disease including endovenous techniques for complex venous ulcers and pelvic congestion syndrome.
For more information:
Salem Skin & Vein Specialists
2827 Lyndhurst Avenue, Suite 206
Winston-Salem, NC 27103
Tel: 336.796.7900
http://www.salemveins.com
Media Contact:
Jonathan Stoddard
Tel: 786-406-7080