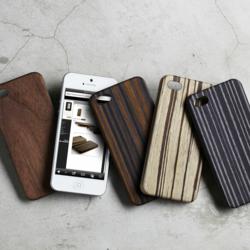 The evolution of personal art begins here. Define your individuality with EVOUNI
Santa Ana, California (PRWEB) March 27, 2013
EVOUNI (http://www.evouniusa.com), creators of high design products for enhancing the mobile lifestyle, today announced the launch of their new U.S. online store which will carry the entire line of EVOUNI mobile accessories. EVOUNI offers smartphone, iPhone, iPad and Macbook accessories in a variety of unique material options including: genuine calf leather, shaped wood veneer, Merino wool, and Japanese Toray Ecsaine microfiber.
EVOUNI USA offers a wide array modern accessories for mobile devices like Apple's iPhone and iPad. The EVOUNI USA online store now stocks EVOUNI's new S52 and S54 Super-Thin Series of iPhone 5 Cases which feature a crafted wood veneer available in Walnut, Ebony, Golden Cane and Hazel, for the Apple iPhone 5 and iPhone 4/4S, plus a variety of other EVOUNI products, including:
S55 Ultra Slim Series glass fiber case for iPhone 5
L36 Leather Stand Pouch Series case and stand for iPhone and smartphone
L09 Leather Arc Cover Series case and stand for iPad
L55 Leather Arc Wallet Series case and stand for iPhone
W57, W54 and W51 Handmade Felt Pouch Series for iPhone, iPad, iPod and smartphone
Non-Tear Envelope Series made of fiberous paper and wool lining for iPhone, iPad, iPod, smartphone, Macbook, laptops and tablets.
V31, V33 and V36 Nano Fiber Series pouch and pouch stand for iPhone, iPad and smartphone.
With the addition of EVOUNI products, thousands of North American customers will now have access to, high-end accessories to protect and complement their mobile devices through http://www.evouniusa.com.
Yamaguchi San, Creative Director at EVOUNI said, "Entice your delicate senses. Pursue the finer things with heart and soul. With passion for creativity, we evolve uniquely. Elevates the fusion of organic aesthetic beauty. It is a pure transcendentalism in form and craftsmanship. The evolution of personal art begins here. Define your individuality with EVOUNI."
About EVOUNI
EVOUNI is the merger of Evolution and Uniqueness where "we strive for outstanding". The EVOUNI brand founded in 2009 was created with premium design in mind. Every product offers piercing scope of personal taste. As a result of today's industrialized world created by mass produced similarities with a constant bombardment of tastelessness and clutter, EVOUNI wants to offer products that empower people to be different from all others.
EVOUNI insists perfection as its' core ideology. EVOUNI strongly believes through a devotion to this ideology that they will capture the delicate taste and sophistication to enrich the digital lifestyle of everyone.
Learn more about EVOUNI on the official US webstore at http://www.evouniusa.com or vist the global website at http://www.evouni.com.