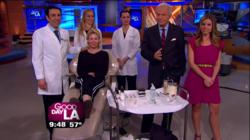 Los Angeles, California (PRWEB) March 26, 2013
According to a March 11, 2013 Wall Street Journal article, a federally funded initiative known as Project Joints - Joining Organizations in Tackling SSIs, has brought new ways to reduce surgical site infections during surgical procedures through a series of preoperative visits beginning thirty days prior to the scheduled operation. (Go to: goo.gl/tLovj).
"I'm very impressed with this program," says Dr. Ourian, "and I hope it will be rolled out to more hospitals and for more procedures, including plastic surgery. Certainly no one checks into a hospital for surgery expecting to get sicker, especially plastic surgery patients who are getting elective treatments."
Infections can come from the operating room personnel or from a previously unidentified microorganism in the body, but harmful bacteria may be present on the skin or in the mucous membranes. These pathogens may cause severe pain, extended antibiotic use, and a need for additional surgeries. A routine knee or hip replacement may be a devastating experience if an unknown infection is allowed to fester, and rare cases may require amputation.
Patients undergoing surgery have been shown to be less prone to developing infections with comprehensive surgical preparation. Prep activities begin approximately two weeks before the surgery. The first step involves a nose swab to test for the presence of staph bacteria. This is followed by instruction in proper showering techniques and the importance of using soap designed to inhibit infections.
Project Joints prevention measures also include providing antibiotics prior to surgery and using clippers to remove body hair since shaving may create nicks that allow bacteria to enter the body and bloodstream. Hospital personnel have responded favorably to the methods advocated by Project Joints, and straightforward instruction has helped patients embrace good practices prior to surgery.
"It's apparent that a significant percentage of post-operative infections are preventable," says Dr. Ourian, "so I'm in favor of any pro-active approach to lowering this risk."
Dr. Ourian has been a pioneer in laser technology and non-invasive aesthetic procedures including Restylane, Juvéderm, Radiesse and Sculptra. These treatments are used for the correction or reversal of a variety of conditions such as acne, acne scars, skin discoloration, wrinkles, stretch marks, varicose veins, cellulite, and others. More information about combating plastic surgery risks can be found on Epione's website.