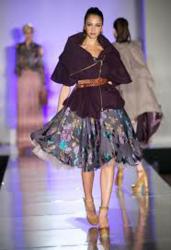 "Fashion is very fleeting, and in order to keep the department and the teaching relevant, we must re-evaluate every course, every year, to ensure we are on the cutting edge." Kathryn Hagen
Burbank, CA (PRWEB) March 29, 2013
With only 10 percent of all fashion design students in the United States getting jobs after graduation, according to the WWD, Woodbury graduates are beating the odds. To accomplish this, renowned fashion illustrator and Chair of Fashion and Costume Design for Woodbury University, Kathryn Hagen, assembled a dream-team of designers, construction specialists, illustrators and historians to create an applied curriculum that helped students gain the skills they need to land jobs after graduation.
The biggest drive behind the revamped program is to give fashion students the resources they need to prepare for a long term career in the fashion industry.
"I believe that preparing Gen-Y students to enter the industry with multiple approaches to design and research will help them make the most of their intense technical training," explains Hagen. "Fashion is very fleeting, and in order to keep the department and the teaching relevant, we must re-evaluate every course, every year, to ensure we are on the cutting edge."
Woodbury's approach is clearly working as 100 percent of the fashion department's 2012 graduating class found job placement in the fashion and design field after completing the curriculum, according to Hagen.
Senior fashion design student, Nathalie Yaru, shares how the program has enhanced her education:
"Long days, followed by even longer nights are worth it, because I am creating something that I am truly proud of," explains Yaru. "Our instructors believe in nurturing creativity, not stifling it, and I love being able to work independently."
As well-planned internships often lead to jobs, dedicated faculty members are tasked with forming connections between students and industry partners. The new internship program gives students the hands on experience they need to jump start their fashion careers.
This spring, Woodbury University will host its 49th Annual Fashion Gala, offering two very different venues on alternative evenings to promote industry outreach that garners Woodbury students name recognition when they enter the field.
To find out more information about Woodbury University Fashion Department, please click .
About Woodbury University
Founded in 1884, Woodbury University is one of the oldest institutions of higher education in Southern California. Woodbury University Fashion Design is a four year accredited program. In addition to the revamped Fashion studies, students can also choose a Costume Design track, Shoe & Handbag design, and the all new Denim Emphasis.
For questions or comments, please contact Jaime Catmull, at Jaime(at)BFFPublicity(dot)com, or 424-903-9002 .