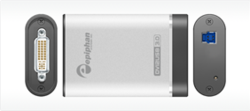 Epiphan Systems Inc. (or, simply, "Epiphan") designs, markets, manufactures, and supports a number of state-of-the-art VGA/HD/DVI video signal source processing devices.
OTTAWA (PRWEB) March 26, 2013
Epiphan Systems Inc., has long been innovating in the world of professional video capture, audiovisual capture, broadcast streaming, and many other recording-related fields. With the introduction of the DVI2USB 3.0™, Epiphan has certainly produced one of the highest-performing and most versatile external grabbers on the market.
The DVI2USB 3.0 uses the Epiphan Capture software and drivers which are compatible Windows, Mac, and Linux host computers. In addition, the software can be used with DirectShow, QuickTime, and V4L video playback services. The software is backward and sideways compatible with many other frame grabbers in the same family which provides seamless migration from one model to the next.
The retail price for the DVI2USB 3.0 is 699.95 USD, and is now available for purchase at http://www.epiphan.com and other retailers.
More information on the DVI2USB 3.0 can be found on its product page.
About Epiphan
Epiphan's products have expertly helped many customers with transcoding, compressing, capturing, broadcasting, replaying, screen recording, printing, and streaming for practically any video source imaginable. Many different fields of study and work have utilized Epiphan technology including medical imaging, computing, education, and much more. The main headquarters of the company are located in Ottawa, Canada along with a sales office in the USA and several authorized resellers across the globe.