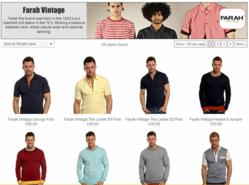 Farah Vintage is one of our top-selling brands at Reem because they use quality material that lasts and you can buy a full outfit from chinos, shirt, jumper and jacket.
Leeds, West Yorkshire (PRWEB UK) 27 March 2013
ReemClothing.com always prides itself on providing mens clothing to all fashion types. Whether it be Geeky Chic, Skater, Heritage or Sporty they have something for everyone. They also have the top brands for each style preference, for example, Canterbury clothing specialise in Rugby and Lifestyle trends, where the spirit of rugby is etched in to the toughness of every item they make. Reem have a large variety of items from this brand that continue to be in demand.
Original Penguin is another top selling brand that continues to increase, Original Penguin focuses on 'true American Classic' representing an All-American preppy look of the 1950's. There products consist of a range of patterned and coloured polo t-shirts, vests and cotton dress shorts.
Farah Vintage at Reem Clothing also strikes a resemblance to the Original Penguin collection, providing a striking balance between slick, sharp casual wear and tailoring. The Farah vintage collection is a top seller with a range from jumpers, polo t-shirts, shorts, shirts and chinos.
"Farah Vintage is one of our top-selling brands at Reem because they use quality material that lasts and you can buy a full outfit from chinos, shirt, jumper and jacket" says Marketing Manager.
For the ultimate sportswear Reem Clothing stock an extensive collection from Franklin and Marshall. This brand takes its inspiration from classic American varsity style, even creating their own signature college emblem which features on all of their items. For the perfect comfortable outfit Franklin and Marshall are top of the sales every time with joggers, sweatshirts, t-shirts and hoodies.
Reem Clothing stock a range of brands specialising in specific styles and all at reasonable prices and next day delivery.
ABOUT REEM CLOTHING
Reem Clothing is a designer mens clothing stockist. Selling the most fashionable designer labels at http://www.reemclothing.com. Reem Clothing allows customers to enjoy the convenience and cost savings associated with online shopping without compromising the high levels of service and security you would expect from high street stores.
The company was established in 2003 and has been growing ever since. Reem Clothing sells through its website, http://www.reemclothing.com and can boast of a personal shopping service that offers friendly and professional advice to ensure that customers get the most out of their clothing shopping experience.
Reem Clothing sells the UK's widest variety of mens designer clothing. They have a selection of up to the minute mens accessories, designer footwear, mens jeans, shirts, t-shirts and shorts. They also stock their own branded mens clothing "Reem Basics".
Reem Clothing prides itself on stocking the largest range of the coolest items of mens clothing. They combine the most fashionable designer labels in the UK with choice imports from Europe. Reem Clothing have all the top brands in mens fashion including, Original Geek, Farah Vintage, Religion, Cuckoo's Nest, Voi Jeans and many more.
Customer service is still a top priority with Reem Clothing, making the shopping online experience completely hassle free. They are more than happy to receive feedback on how they can improve the mens clothing collections or any aspect of the ordering process.