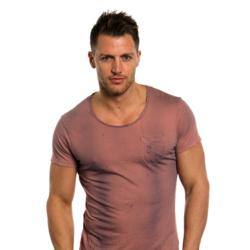 We wanted to be one of the first mens clothing companies to stock such bright t-shirts for men. We haven't seen anything similar to these colours being in fashion since the 80s
Leeds, West Yorkshire (PRWEB UK) 27 March 2013
Mens t-shirts were very popular over the winter months but Reem Clothing is prepared for an even bigger demand for them as the weather improves and the designs are becoming a must-have. Designers including Tommy Hilfiger, Scotch and Soda and Pearly King are among those taking a trip back to the 80s with neon colours and tie dyed items.
"We wanted to be one of the first mens clothing companies to stock such bright t-shirts for men. We haven't seen anything similar to these colours being in fashion since the 80s," advises Reem Clothing Manager.
ReemClothing.com is planning to extend their palette of shades across the product range ready for the new season. Specialist wash techniques such as garment dyes and dip dyes provide unique designs using eye-catching colours.
Dip dyed mens clothing can be t-shirts that have been dyed in a colour that gradually gets lighter from the bottom of the t-shirt up. Tie-dyed t-shirts have been scrunched and tied in different areas then dyed to create a mixture of colour and patterns. Designers like Scotch and Soda have chosen the theme of "out there fashion pieces for the care-free guy". The idea that they have gone with is explosions of colour, all-over prints, neon and lots and lots of tie-dye.
Reem Clothing expects to see an increase in the sales of t-shirts on last year with the new collection already making an impact.
ABOUT REEM CLOTHING
Reem Clothing is a designer mens clothing stockist. Selling the most fashionable designer labels at http://www.reemclothing.com. Reem Clothing allows customers to enjoy the convenience and cost savings associated with online shopping without compromising the high levels of service and security you would expect from high street stores.
The company was established in 2003 and has been growing ever since. Reem Clothing sells through its website, http://www.reemclothing.com and can boast of a personal shopping service that offers friendly and professional advice to ensure that customers get the most out of their clothing shopping experience.
Reem Clothing sells the UK's widest variety of mens designer clothing. They have a selection of up to the minute mens accessories, designer footwear, mens jeans, shirts, t-shirts and shorts. They also stock their own branded mens clothing "Reem Basics".
Reem Clothing prides itself on stocking the largest range of the coolest items of mens clothing. They combine the most fashionable designer labels in the UK with choice imports from Europe. Reem Clothing have all the top brands in mens fashion including, Original Geek, Farah Vintage, Religion, Cuckoo's Nest, Voi Jeans and many more.
Customer service is still a top priority with Reem Clothing, making the shopping online experience completely hassle free. They are more than happy to receive feedback on how they can improve the mens clothing collections or any aspect of the ordering process.