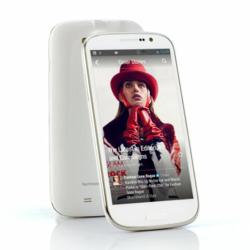 With all phones coming with a one year manufacturers warranty Li says, customers can be assured that their phone won't let them down.
Shenzhen, Guangdong (PRWEB) March 28, 2013
Well-known tech brands have been put on notice by the release of a new ThL phone which comes with more power, a smarter iOS, and a better camera, says China Android phone seller, Chinavasion.
Online Android smartphone seller Chinavasion launched the ThL W8 Android 4.1 powerhouse which is taking the online world by storm.
The Android smartphone comes with a 12MP rear camera, 1.2GHz Mediatek quad core processor, 1GB of RAM and Android 4.1 in a package priced at up to half of what brand name phones are costing in bricks and mortar stores.
Rose Li, PR manager for Android smartphone seller Chinavasion compares this the industry's most popular Android device, and emphasizes that the top iOS device only having 8MP cameras and come with outdated software.
"The most popular Android device still runs Android 4.0 and iOS devices are still locked down with the amount of memory that they can have," says Li. "Big brand-name phone makers should be scared."
In fact, Li says with a 5MP front camera, 12MP rear camera and huge 5 inch high definition screen the ThL W8 makes a fantastic photographer's phone.
"Throw the Adobe photoshop app on this phone and you've got the ultimate pocket-sized camera device," says Li. "No other phone on the market can make a claim to that."
China Android smartphone brands have been some of the fastest rising names in the mobile world with tech brands including Huawei, ZTE and Lenovo getting global coverage for products and being purchased by carriers over offerings from other models, says Li.
She says companies like ThL and Xiaomi offer the next generation of phone makers producing world class phones capable of competing on the world stage.
"ThL is a first class player in the global phone market," says Li. "They have worked extensively with the W8 to come up with a phone that offers a better experience than almost any other Android phone."
Li says this is done while offering the unlimited flexibility and price that people have come to expect from China phones.
The device allows users to swap batteries, add multiple SIM cards and expand the memory by up to 32GB without the use of tools all while maintaining the same battery life seen from more expensive phones.
China Android smartphone makers have been careful to optimize elements like the resolution to get the most out of the phone's battery," says Li. "Owners could potentially carry around three fully-charged batteries and keep their ThL going for days before needing to recharge."
And with all phones coming with a one year manufacturers warranty, Li says customers can be assured that their phone won't let them down.
"Chinavasion has a reputation for world-class customer service, and with ThL it is looking to take that to the next level," says Li. Visit Chinavasion today: http//:http://www.chinavasion.com