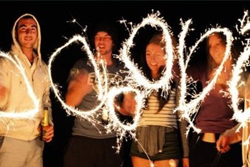 London (PRWEB UK) 27 March 2013
Students looking to spend part of their gap year in Australia are being offered an exciting choice of packages by Australian adventure tour experts Oz Adventures this year.
Flights to Oz start from as little as £689, and a host of hotels, as well as excursions and transfers, are available at minimal additional cost for those wishing to embark on flights to Australia with stopovers. This also applies to flights to New Zealand with stopovers.
Working in close partnership with Contiki 18-35, Oz Adventures offer a wide range of escorted adventure tours, including the 11 day 'Australia Adventure' package.
This tour, available from £1,555, starts in Alice Springs and takes travellers to some of the country's most iconic cities, Tennant Creek, Darwin, Ayers Rock, the Great Barrier Reef and a host of exciting places in between.
Travelling around Australia is, however, not limited to guided bus tours. Other available options include, for instance, rail tours on The Ghan - which take travellers from Adelaide to Alice Springs, then on to Darwin (or vice versa) - providing an excellent opportunity to explore Australia's magnificent Red Centre.
Another option – Oz Adventures' distinctive river and reef cruises - make gap year travel not only an adventure, but also informative. Starting from as little as £966, all Coral Princess cruises include meals, guided walks, interpretive talks and snorkelling, as well as tours in glass bottom boats.
Alternatively, students over the age of 21 can spend their Australia gap year touring the country with Australia Motorhomes or on self-guided hire car tours. The latter start at £299 and include the hire of fully air conditioned vehicles, unlimited mileage/kilometres, a tour itinerary with corresponding map and pre-booked accommodation.
For adventure travel on a budget, Australia campervans offer the perfect solution. Starting at £38 per day, vehicles sleeping between two and six people can be hired for as long as required (terms and conditions apply). For hires covering more than 21 days, most options do not incur one-way fees. Here, too, mileage/kilometres are unlimited, making it possible to see as much or as little of Australia as desired during the hire period.
Choosing your Australian gap year with Oz Adventures offers exactly what it says on the box - the freedom of choice and the freedom offered by the wide open spaces of Australia. It should perhaps be noted at this point that all escorted/self-guided tours offer free time for travellers to 'do their own thing'.