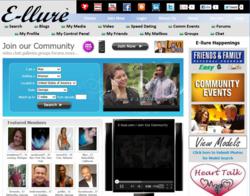 Best online social networking and dating site!
Atlanta, GA (PRWEB) March 28, 2013
E-llure is the most comprehensive and socially interactive website on the internet which guarantees to revolutionize internet social networking and online dating. The site launch date is scheduled for January 1, 2013. E-llure.com has a new and innovative approach which enables users to access private email, control panel, videos, blogs, chat rooms, issue forums, local and national community events, speed dating events, and much more as premium (monthly subscription) or standard users (free). E-llure is also an internet dating site which allows members to add photos, biographies, select match qualities, favorites, and many other features so members can find other people that they would like to connect with in a romantic or platonic manner, the choice is yours. The goal of E-llure is to become the global leader in online social networking and dating for professional and successful adults over the age of 21.
The site's founder stated, "The reason for starting E-llure was to fill a void that other pure social networking or online dating sites were ignoring. I felt that there was a great need for professional and successful adults to have a place to discuss critical issues online in our forums or just chat with people within a safe and platonic environment. Our web site now enables people from around the world to email, chat, or talk and discover more about each other in a safe and neutral environment that is available with a single click." E-llure is a great way to meet millions of interesting new people from around the world in a matter of minutes with the possibility of building great friendships that can last a life time. Site visitors can easily register at E-llure.com to get started with personal matches, scheduled events, speed-dating, coordinated groups and forums, and plenty of other exciting features.
E-llure website is different from other online dating sites because it automatically matches users' profiles and enables users with similar interests and likes to identify each other more easily and connect whenever users choose. E-llure also ensures the strongest online privacy for its members. All member information shared on this website is kept confidential and is only used for E-llure purposes and internal use only. E-llure will never knowingly distribute any member's personal information to any third party or outside organization. Nor does E-llure.com distribute any information that can potentially harm any member or be utilized for criminal purposes within or outside of the United States.
While searching the Internet, E-llure.com can be found by searching many key words such as internet dating, online dating site, online dating, meet men, meet women, singles site, matchmaking, international dating, meetups, hookups, networking, friends, online matchmaking, online dating chat, free dating site, connect with friends, top online dating, online dating site, and many others. E-llure is built around a thriving multi-level social community, allowing members to sign in and meet their match, share photos, create events, post blogs, build social groups and keep up to date with the latest news. Professionals can also use the site to publicize community events or social activities to extend their online and offline social circles as well as find that special someone.
The knowledgeable and supportive customer service staff of E-llure.com website is available 24x7 to answer all member questions. E-llure also offers relationship advice via our online dating gurus for relationship and dating safety tips.
The registration process has been designed to be simple, enabling new users to complete registration form, add photos, and complete payment within minutes.
To find out more about E-llure and to create a profile, visit E-llure.com.
About E-llure: Join now and search for other singles immediately. E-llure is an online social networking and dating site with blogs, chat rooms, speed dating, videos, news, and much more. E-llure.com assists people who would like to connect with other like-minded successful professionals or create their own personal forums and blogs for discussion with others in a safe online environment.
Note to Editors: For more information please contact Administrator, Tel: 404- 859 - 5701, Email: mtrentel(at)e-llure(dot)com.
E-llure is dedicated to providing professional and successful adults with online social networking and dating experiences which are safe and rewarding.