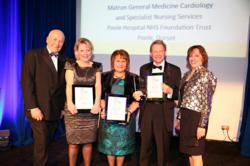 London (PRWEB UK) 27 March 2013
Through its strong belief in truly supporting and giving back to the industry, ID Medical sponsored the leading award at nursing's most prestigious event, the British Journal of Nursing Awards 2013, by presenting Geoffrey Walker who won Nurse Of The Year 2013.
Nick Napier-Andrews, head of strategic accounts at ID Medical, the UK's leading force in the provision of healthcare professionals, is pictured presenting Geoffrey Walker, with his Nurse Of The Year Award 2013 for his duties as matron general medicine, Cardiology and specialist nursing services at Poole Hospital NHS Foundation Trust in Dorset, initiated the public patient involvement group, which has just celebrated 10 years of existence and opened and developed the medical investigations unit as an alternative to inpatient admissions. Mr Walker was honoured in the Queen's birthday honours list receiving an OBE in 2009.
Nick Napier-Andrews commented, "Understanding why Mr Walker won this award is indeed humbling. In the current climate of change within the NHS, where so much is being focused upon cuts and cost efficiencies, Mr Walker's commitment and the continued success of the public patient involvement group is truly remarkable."
"By holding more than 80% of supplier contracts in hospitals across the UK ID Medical does have a thorough understanding of such changing landscapes, and working as an approved supplier on all GPS, HTE and LPP frameworks, ID Medical is capable of fully training and developing its nurses, locums and healthcare professionals to attain and exceed required levels of patient experience including quality, safety and care. Nonetheless, nothing can shine the light to Mr Walker who so deservedly achieved the BJN's Nurse of the Year 2013. By being nominated by his colleagues too clearly demonstrates why he is held in such high esteem with such an enormous contribution to Poole Hospital NHS Foundation Trust and his colleagues. Many, many congratulations Mr Walker on your most commendable achievement."
ENDS
About ID Medical.
ID Medical was established in 2002 and has since maintained its enviable position as market leader in the provision of high calibre medical staffing to both the public and private sectors. As the UK's leading provider of locum doctors, nurses, AHP/HSS and clerical staff, ID Medical holds preferred supplier contracts with over 80% of hospitals nationwide. It supplied over 1.3 million hours in 2012.
Founded on its core principles of quality of service, dedication, innovation and 100% commitment, the ID Group provides a complete medical staffing solution to its valued partners. Its services form part of the NHS procurement, with the ID Medical brand becoming synonymous with quality and dedication to the requirements of its clients and candidates alike.
In 2013 ID Medical achieved three years featured in the annual Recruiter FAST 50 league, one of only 7 UK recruitment companies demonstrating strong sustained growth, and one of only three medical companies making the grade.
In its first year entering, it was accredited two star rating signalling 'Outstanding Organisation' by Sunday Times 100 Best Companies To Work For 2013.
For further information on ID Medical please contact:
Caryn Cooper
head of marketing
ID MEDICAL - ID House - 1 Mill Square - Wolverton Mill South - Milton Keynes - MK12 5ZD
t: +44 (0) 1908 555 498 f: +44 (0)1908 552 825
w: id-medical.com e: caryn.cooper(at)id-medical(dot)com