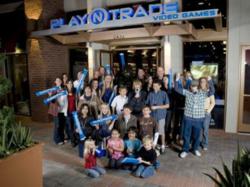 This group has shown tremendous support for the brand...I am sure they will have a positive impact for every Play N Trade store owner.
San Clemente, CA (PRWEB) March 27, 2013
The announcement of the FAB members were a direct result of an expansion of the PNT brand worldwide. "As we expand our brand across the globe we are feeling a need for geographical representation by ownership," said Mr. Beaupre.
Creating a franchise advisory board was the perfect solution for improved communication between corporate and franchise owners. Play N Trade has a tremendous amount of localization in "purchase" and "trade in" for consumer electronics, and video games. One region could be heavily driven by sports video games and Apple products, and another region may be driven by action video games and Sprint phones. The FAB members will act as liaisons between corporate and owners, they will address new initiatives, offer industry knowledge, and brand involvement.
Mr. Beaupre identified the FAB members based on store success, community involvement, drive, and the willingness to represent other store owners in their area. "I am very pleased with the members of the franchise advisory board," said Mr. Beaupre. "This group has shown tremendous support for the brand, and for the success of not just their own stores, but all stores. I am sure they will have a positive impact for every owner."
In the U.S. the four Franchise Advisory Board (FAB) members are; Art Zeiber (owner of two stores in Erie, Pennsylvania). Muhammad Baste (owner of five stores in the Chicago area). John Stefek (owner of a successful store in Saint Clair Shores, Michigan). Ken Leese (owner of three stores in Moorestown, Greentree Square and Mt. Laurel, New Jersey).
In Canada, the three FAB members are Sebastien Simard (Sherbrooke, Quebec). Gilbert Ouellette (Vandreuil-Dorian, Quebec.) Justin White (Duncan, British Columbia).
Charles Beaupre, CEO of Play N Trade has said his greatest success story in 2013 is his successful team leaders. "It is a team, and growth is driving my team, the FAB is a natural extension to improving and facilitating communication to all stores, while implementing best practices to increase sales. Our industry is very dynamic, the need to keep a strong pulse to our consumers thorugh our owners is paramount to our success. I am confident that our FAB members will be an important resource in supporting our brand."
About Play N Trade
Play N Trade is one of the largest video game and consumer electronics retail franchises worldwide. The company specializes in the sale, repair and trade-in of video games and consumer electronics. Play N Trade stores offer a lifestyle experience in its innovative store design that provides an emotional attachment to the consumer's passions. Many customers say simply "This is the best store I have ever been to!" The company's office is located in San Clemente, CA. For more information, please visit http://www.playntrade.com or call (888) PNT-GAME.
# # #