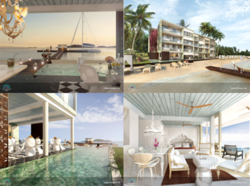 (PRWEB UK) 28 March 2013
SAMUI, Thailand – In the world of luxury resorts brand is paramount, experience has replaced facilities and stories create emotional bonds. Visitors are guests and the experience is the memory. Synonymous with distinctive architecture and interior design balanced with functionality and exceptional service, Design Hotels™ lead the way in this guest-centric, experience-driven hospitality world and Thailand's The Beach Samui is one of the most recent boutique resorts to join the Design Hotels™ collection.
The Beach Samui is the latest luxury resort in Thailand and Private Residence Club from an exciting and award-winning collaboration between Yoo, one of the world's leading design teams and the Absolute World Group, with architectural conceptualisation by London-based David Archer Architects.
The Beach Samui is part of an engaging story. A story of creation – the creation of a unique and consciously designed resort in a tranquil fishing village on the southern tip of Samui Island with panoramic views over Ang Thong Marine National Park; a story of firsts – Thailand's first Yoo designed resort to become a member of Design Hotels™ and the first Private Residence Club in the Absolute World Group's eclectic portfolio of boutique resorts in Asia; and a story of awareness – awareness of the resort's surrounds and responsibilities, building on a brown field site, using locally sourced materials, solar energy and natural water filtration systems.
The Beach Samui is today writing a new chapter in its story. More than 400 hotels apply for Design Hotels™ membership each year, but on average, only 5% are accepted. Design Hotels™ are chosen for their originality in concept. A combination of holistic concepts, location, architecture, design, local integration, corporate ethics and - most importantly - the people behind the concept all contribute to that originality. Design Hotels are "Made by Originals".
"The location, Yoo designed interiors and the philosophy of the resort will inspire our guests old and new who are looking for something different, new holiday experiences and memories to treasure in the most breathtaking of surroundings, the apartments are also available as second home ownership creating a truly exciting lifestyle proposition. The project has been a true labor of love for myself and our creative development team and our joining with Design Hotels™ exclusive and eclectic portfolio of unique hotels around the world is a part of The Beach Samui's growing story." commented Bryan Lunt, CEO of the Absolute World Group.
The Beach Samui and the "Originals" involved in the resort's conceptualisation and realisation make a perfect partnership, together creating a consciously developed resort with personality and a fantastic story with one of the world's leading design teams. The new chapter to this story is The Beach Samui's recognition as part of a collection of the worlds leading design hotels.
Samui Island is also writing a story, a story of Brand Samui, which is being written through unique resort experiences and the growth of branded resorts on the Island. The Beach Samui is the latest addition to this storyline and underscores the Island's boutique approach and upmarket positioning.
"Samui has developed from a relatively unknown backwater 20 years ago to a luxury boutique island resort destination with some outstanding resorts, a vivid culture and a stunning seascape. The growth of branded developments and the desire to do something different has lead us to develop The Beach Samui, which is the latest boutique resort addition to Samui's story and through our "local first" approach contributes directly to the Island's sustainable future," added Lunt.
2013 is an auspicious year for both the Absolute World Group and Design Hotels™, the former celebrating 15 years of success and the latter 20 years. And together they will celebrate the opening of The Beach Samui in Autumn 2013.
The Beach Samui comprises a range of 21 contemporary suites and penthouses, all with uninterrupted sea views, private terraces with hand carved hot tubs and unique designer interiors. Private beachside cabana relaxation areas provide the perfect escape for guests, an exclusive holistic spa with steam room, plunge pool, treatment room and gym offers the perfect respite. The hotel's wellbeing bar and restaurant will serve an international menu with an abundance of local organic produce so guests can dine on wholesome dishes whilst taking in the island view or watching the night's sky reflect the stars in the illuminated infinity pool at their feet.
In-room amenities boast the latest AV equipment, wireless internet, satellite television, iPad check in, temperature cooling systems, branded beach accessories, organic toiletries, and recycling bins to encourage guest participation in the resort's sustainable attitude, which includes solar energy, locally sourced materials and natural water filtration systems.
A sustainable conscience is at the heart of The Beach Samui story and is now documented in the celebrated 20th Anniversary edition of the much celebrated Design Hotels™ Book, available to order at http://www.designhotels.com/specials/the_design_hotels_book_2013
http://www.thebeachsamui.com
http://www.designhotels.com/the_beach_samui
About The Beach Samui
The Beach Samui, the Absolute World Group's premier Private Residence Club & Boutique Hotel, consists of a consciously designed range of 21 contemporary suites and penthouses all with uninterrupted sea views and each with its own hand carved private terrace hot tub, covering a footprint of 820m sq. Each apartment comes complete with a superior Yoo Studio designed furniture collection exclusively conceptualised and sourced for The Beach Samui. All apartments feature breath-taking sea views, private terraces with hot tubs and luxurious interiors with an average apartment size of 53m sq.
As a Private Residence Club, independently operated by Absolute Resorts & Hotels, service is key and as a personal project of Absolute World Group CEO Bryan Lunt, no expense has been spared, down to iPad check-in, the latest in-room AV technology, and Yoga and Well-Being programme, to the sensory foot baths as you leave the sandy beach. Seamless five-star concierge service and fractional ownership advantages also include the exclusive use of Absolute's
speedboat to explore the nearby islands, the use of complementary golf equipment when clients choose to visit one of the one of the nearby world class golf courses, plus the pre-ordering of services and sundries direct to each apartment upon arrival.
In partnership with the Yoo and with the internationally renowned architect David Archer, Absolute have consciously created this extraordinary resort to mirror its outstanding surroundings.
http://www.thebeachsamui.com
About Design Hotels™
Design Hotels™ represents and markets a curated selection of more than 240 independent hotels in over 40 countries across the globe.
More than a collection of hotels, the company is a collection of stories. Each property reflects the ideas of a visionary hotelier, an "Original," someone with a passion for genuine hospitality, cultural authenticity, thought-provoking design and architecture. Each "Original" stands for the individual, aesthetic and service driven experience that his or her hotel provides.
Founded by Claus Sendlinger in 1993, Design Hotels™ offers its members insightful travel industry
knowledge, from market trend consultancy to international sales representation. The company has its
headquarters in Berlin and branches in London, Barcelona, New York, Singapore and Perth.
http://www.designhotels.com
About Made by Originals
Made by Originals takes a deeper look into the world of travel, hospitality and culture. With the goal of being a resource for inspiration, it draws inspiration and content from extraordinary hotels around the world and the creative communities supporting them.
From SoHo in New York to Little India in Singapore, architects, designers, artists, hoteliers, cooks, DJ's, journalists and fashion designers support us with interviews, experiences, photo galleries and behind-the-scenes looks at their life and work.
http://www.madebyoriginals.com
About the Absolute World Group
Founded in 1998, the Absolute World Group of companies has grown strategically to become one of Asia's leading and multi award winning lifestyle property development, resorts & hotels, and destination club brands.
With a global presence in over 27 countries including Australia, Bali, China, England, Hong Kong, Russia and Thailand, the Absolute World Group offers a seamless range of services within the world lifestyle vacation industry, inclusive of a highly successful Destination Club, award-winning self and partner developed resorts in Thailand, Resort Real Estate, a pioneering Fractional Ownership division, now offering fractional motoryacht ownership and a successful luxury life magazine > http://www.absolutethai.com/interactive-magazine/ series. 2013 marks the Group's 15th Anniversary year.
http://www.absoluteworld.com
About Yoo
From Buenos Aires to New York, London to Melbourne, yoo's name is celebrated for its innovative design flair, stand-out interiors and uber chic styling.
The yoo Studio, has big imaginations, providing a choice of looks and styles to suit individual lifestyles. Sourcing the best quality fittings and furniture from around the world to create interiors that are imaginative, rare and individual.
Having co-founded the Manhattan Loft Corporation, which transformed urban London living in the 1990s with its regenerated loft spaces, property entrepreneur John Hitchcox formed yoo in 1999 with the world's most celebrated designer, Philippe Starck. Since then yoo has continually raised the bar for contemporary design, electrifyingly redefining the simple word 'home' in award-winning schemes around the world - ranging from multi-million dollar luxury homes in the Cotswold's to resort living in Europe and South East Asia.
With a strong global identity; yoo is now an international lifestyle brand synonymous with quality design. With over 51 projects completed in over 27 countries, yoo has also made a foray into products with their first book 'Interiors by yoo' which has sold over 30,000 copies internationally.
http://www.yoo.com
Asia Media contact:
Chanut Nawnarong or Duncan Worthington
Infinity Communications Thailand
Tel: +66 (0) 89 512 7030
Tel: +66 (0) 81 893 4006
Email: team (at) infinity-comms (dot) com
International Media contact:
Charlotte Rose Melsom
Global Director of Brand Development
Absolute World Group
Tel: +44 (0) 7917 167902
Email: charlotte (at) absoluteworld (dot) net