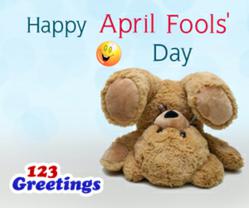 We want everyone to laugh and enjoy the lighter moments of life. What's more, laughter, gags and pranks should not cost your pocket anything. As they say, the best things in life are free!
- Arvind Kajaria, Founder, 123Greetings.com
New York, NY (PRWEB) March 26, 2013
The leading ecards website, 123Greetings.com, reveals interesting trends about April Fools Day. Over 61,000 humorous expressions were sent from the website for the occasion. 30% of them originated from the United States of America. The rest were spread over 170 countries.
Ecards senders from America reviewed between six to seven expressions before selecting the most appropriate message for their friends and family. People from African countries of Nigeria and Ghana reviewed between two to three expressions before selecting. While those from Greece, Russia, Ukraine and Singapore had reviewed between seven to eight expressions. These numbers seem to suggest a trend that it might not be so difficult to make someone laugh in some countries in compare to others.
Arvind Kajaria, Founder of 123Greetings.com, says "For April Fools Day 2013 we want everyone to laugh and enjoy the lighter moments of life. We are happy to be able to assist with that. What's more, laughter, gags and pranks should not cost your pocket anything. As they say, the best things in life are free!"
April Fools ecards on 123Greetings.com feature over 200 ecards across eight categories, enabling people to send free expressions to each other on this cheerful and joyous occasion.
About 123Greetings.com:
123Greetings.com is the world's leading online destination for human expressions reaching over 95 million visitors annually. Drawing from its tag line "Free Greetings for the Planet" the service exemplifies the notion that the best things are free in our planet and so should wishes, greetings and personal expressions be. Its offering of over 37,500 greeting cards covers a mix of 3,000 seasonal & everyday categories.
For details visit http://www.123greetings.com.