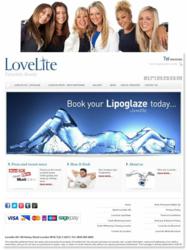 (PRWEB UK) 28 March 2013
London beauty experts Lovelite, creators of the revolutionary Lipoglaze fat freezing and teeth whitening treatments, have expanded their services to include a full E-Commerce website.
Based in Harley Street, the successful ladies at Lovelite have enabled trained professionals to purchase their futuristic equipment and products via their website, further spreading the success of the teeth whitening and liposuction services, Lipoglaze, to franchises.
Debra Robson and Donnamarie McBride have gained over 30 years' experience in the aesthetic beauty industry and their enthusiasm for the innovative treatments are evident. The successful duo started out with Lovelite White, a popular bespoke teeth whitening treatment that has been viewed on some of London's most famous smiles
Since that time, their achievements enabled them to move into fat reduction services, introducing Lipoglaze, a non-evasive treatment that breaks down fat cells through Cryogenic Lipolysis. The services is a breakthrough in fat reduction treatments and has been causing a stir in the beauty industrial.
The brand has gone from success to success, consistently gathering media attention and coverage. The Daily Mail covered the 200% increase in Lipoglaze demand after the lust for Jessica Ennis's Olympic abs inspired the nation, whilst More Magazine covered the news of The Bachelor winner, Khloe Evans visiting Lovelite for her first Lipoglaze treatment. Stars of Made in Chelsea, Hugo, Binky and Spencer Matthews have all visited the clinic for treatments alongside a number of famous faces from The Only Way is Essex.
The news of Lovelite's effective treatments and excellent customer service has spread amongst London's biggest stars and this awareness has encouraged more and more people to visit the clinic for beauty treatments. The new ecommerce enabled website will now enable more beauty professionals to be a part of the growing brand success and will also provide beauty lovers with some of the clinics most effective products.
LoveLites new and improved website is now live, with the e-commerce store launching on the 8th April 2013. To view Lovelite's new website and services please visit http://www.loveliteuk.co.uk.