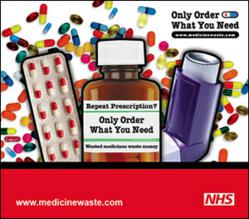 London, England (PRWEB UK) 27 March 2013
The Medicine Waste Campaign, launched by NHS Wandsworth Clinical Commissioning Group, calls upon patients to:

Only order what they need
Return their unwanted medicines to their pharmacy for safe disposal
Take their medicines with them when they go into hospital
Nick Beavon, Chief Pharmacist, Wandsworth CCG explains, "With massive cut backs in public spending it makes absolute sense to reduce waste...it's a quick win. We are trying to empower patients and carers to play an active role in their medicine use...not to take anything away from them; we are not blaming them, it's important they get the right medication when they need it. The resultant health benefits will save millions for the NHS in the longer term. We just want to significantly reduce the millions of pounds worth of drugs returned to pharmacies that are returned from patients unused which cannot be reused and need to be incinerated so those precious funds can be reinvested in better health care for us all."
The £39.4million that could potentially be saved in London through better medicine management could be spent on:
1,548 more nurses OR
39,438 more drug treatment courses for Alzheimer's OR
2,605 more drug treatment courses for breast cancer OR
10,636 more hip replacements OR
41,038 more cataract operations
Around half of the UK population do not take or use their medicines as prescribed. This can occur for a number of reasons, including:
Patients not believing the medicine is necessary
Possible side effects
Fitting taking or using medicines into daily routines
Choosing between medicines if patients' feel they are taking too many
Cutting down or stopping medicines they have been taking for a long time
Health professionals across the region have joined forces in a bid to inform patients about their treatment and to help people understand more about their medicines and the options they have.
Posters and leaflets will be displayed in pharmacies and GP practices to raise awareness of medicine waste among both patients and carers. Further information may also be found on the Medicine Waste national website.
The latest report from the Department of Health (Nov 23rd 2010) cited Medicine Usage Reviews as a potential way to reduce waste. In 2011, NICE (National Institute for Health and Clinical Excellence) issued new guidelines to healthcare professionals on how to involve patients in making decisions about prescribed medicines and reduce the number of people not taking or using their medicines correctly. The campaign will encourage patients to have regular reviews of their medicines and to discuss any issues they may have with their medication with their GP or pharmacist. Anyone with unwanted medicines can return them to their local pharmacy where they will be disposed of safely.