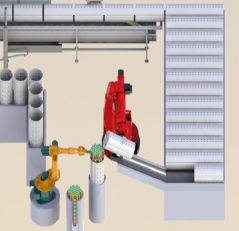 HPP operators seem to be over-processing, rather than completing the necessary analysis to identify the ideal processing parameters.
White Pigeon, MI (PRWEB) March 26, 2013
All Natural Freshness has spent years working with food manufacturers who are operating high pressure processing facilities that are performing far below their maximum capacity. "High Pressure Processing, as a function of production level food manufacturing, is a relatively new technology. In many cases, we've found that the food manufacturers who have adopted HPP are operating far below the full throughput capacity potential," states Gerald Ludwick, President of All Natural Freshness. All Natural Freshness is proud to announce that is has developed proprietary solutions and processes that can help those food manufacturers save up to $30,000 per month by re-capturing lost operating capacity.
High Pressure Processing (HPP) is a fully commercialized, food processing technology that is gaining rapid acceptance in global food manufacturing. HPP is a cold water, ultra-high pressure based technology that can drastically extend the shelf-life of totally fresh products. In High Pressure Pasteurization all-natural food products are submerged, in water and then subjected to incredible water pressure. Under the intense pressure spoilage microbes and food borne pathogens such as e.coli, salmonella, and lysteria are drastically reduced. The end result is a shelf life extension of between 2x and 3x the shelf life of the product in its natural state.
When processing a product at maximum pressure, 87,000psi, for 150 seconds, the total processing time is 7 minutes, which yields a potential of 8 cycles per shift hour. However, it may be the case, that product only needs to be processed at 80,000psi for 45 seconds to deliver a product that fits the food manufacturers true needs. This reduction in hold time would reduce total processing time down to 6 minutes, achieving an additional 2 cycles each hour. Over 2 – 10 hour shifts that yields 40 cycles. At 400lbs/cycle, the yield is16,000lbs more per day. Ludwick states, "HPP operators seem to be over-processing, rather than completing the necessary analysis to identify the ideal processing parameters."
A majority of operators believe they are operating at 100% in actuality they were far below that. "By completing a full HPP operational review and process analysis, All Natural Freshness can deliver the proper buffering system, Certified Recipes, and lean processes assuring our customers can maximize HPP output," states Jon Jurhs, Vice President of Business Development. All Natural Freshness' proprietary HPP processing solutions can unlock tremendous opportunity currently being incurred by food manufacturers globally.