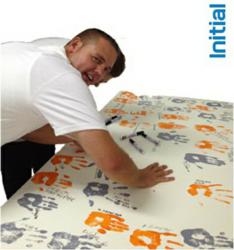 Good hand hygiene is vital to decrease absenteeism as well as to create dynamic learning and working environments that improves productivity levels.
Cape Town, South Africa (PRWEB UK) 28 March 2013
Contaminated hands can transfer germs to up to seven separate surfaces, and the average desk has 400 times more bacteria than a typical toilet seat. Germs can also live on a surface for up to 48 hours.
Taking these facts into consideration one can see why in a high-traffic environment such as a school, germs can spread quickly, causing widespread illness in the classroom. Transmission of illness by hands is a major issue with children, who frequently touch their nose and mouths after touching an infected surface. The overwhelming majority of child absences are due to minor illnesses such as colds, sore throats and stomach bugs; all of which are transmitted through poor hand hygiene.
According to the Basic Education Minister (as reported on news24 on the 26 Feb 2013) South Africa has the highest rate of teacher absenteeism in the SADC, reportedly on average 19 days per teacher per year. Absent teachers cause disruption and are costly to replace on a temporary basis, and sick pupils can miss vital lessons and exams. Research has shown that something as simple as regular hand washing can decrease illness by up to 50%. Good hygiene is therefore vital to decreasing absenteeism and creating a dynamic learning environment.
With this in mind, the Cape Sales team for Initial has launched a corporate social responsibility initiative which involves targeting schools from previously disadvantaged areas with the aim of increasing student and teacher awareness of basic hand hygiene principles. Initial services are offered at significantly discounted rates, and the team has revised their Basic Hygiene Talk - normally provided as an added benefit to existing corporate clients - to be more interactive and age appropriate for the learners at these school. The talk is supported with laminated posters for all bathrooms, outlining the basic principles of hand washing to act as a constant reminder to both student and teachers of the importance of maintaining optimal hygiene standards.
Schools are not the only high-traffic areas in which hygiene is vitally important. With the rise of antibiotic resistant bacterial infections such as methicillin-resistant Staphylococcus aureus (MRSA) hand hygiene practices are under scrutiny. The Word Health Organisation estimates that about 440 000 new cases of multidrug-resistant tuberculosis (MDR-TB) emerge annually, causing at least 150 000 deaths.
Poor hand hygiene by hospital staff has been associated with the spread of resistant organisms (super bugs) and research has shown that an increase in hand washing practices results in decreased rates of these organisms.
Clinix Hospital Selby, and Initial client, regularly host hand hygiene initiatives for their staff. This March they invited Initial to participate in a team building event designed to promote awareness around the importance of sound hand washing practices in a medical environment. Initial assisted by providing foam hand soap, hygiene wipes and gel hand sanitizer to the hospital staff at their team building event.
Client Liaison officer Tamara Kondowe, had this to say about Initial's participation, "It was an eye opener in terms of health and education in regards to keeping ones hands clean and creating awareness about what we touch on a daily basis." Initial has been asked to partner with the hospital again at the end of the month for those colleagues who were not able to attend. Says Kondowe, "We'd like all our staff to be up to date with and reminded of how important it is to wash their hands, especially in this environment."
About Rentokil-Initial: The Rentokil Initial group specialise in pest control, hygiene services and interior landscaping for businesses across the globe. Using leading-edge, environmentally friendly technology, their experts deliver a wide range of tailored services to businesses of all kinds. Rentokil Initial South Africa has operations in all major business centres across the country. Read more about Initial's hygiene services, or to arrange for a free hygiene services survey of your business, contact 0800 77 77 88.