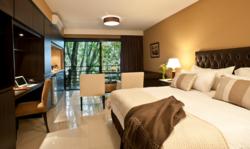 Buenos Aires, Argentina (PRWEB) March 27, 2013
Building on the success of its Palermo Place hotel, P Hotels today announced the opening of its new Palermo Tower luxury boutique property in Palermo Hollywood, the trendiest neighborhood in Buenos Aires, South America's most vibrant city.
Palermo Tower, http://www.palermotower.com, offers elegance on an approachable scale with only 23 luxury suites complemented by a rooftop pool affording dramatic skyline views. It borders famous Palermo Soho and is surrounded by world-class shopping, cultural attractions, a vast number of gastronomic options, and exciting nightlife. Buenos Aires is often referred to as "the Paris of South America" and Palermo Tower is at the epicenter of activity. Adding to guest convenience, the Palermo subway station is only one block away and J. Newberry International Airport is only a 15-minute drive.
P Hotels is a highly acclaimed U.S-based operator that will be adding two additional Argentine properties – one in Mendoza, Argentina's celebrated wine region, and one in Bariloche, a four-season recreational paradise. It is owned by U.S-based Grupo EMR, which also develops each of the branded properties. Although P Hotels are noted for their superb locations and intimate ambiance, the properties are most often praised for the friendly, highly personalized service provided by the knowledgeable staff members.
"The enthusiastic acceptance of our first hotel, Palermo Place, has been very gratifying," said Grupo EMR CEO Edward Rubio. Prior to becoming a hotel developer and operator, Rubio traveled the world as a financial executive. "Of all the countries I visited during my career in the financial sector, Argentina clearly offers the best combination of natural beauty, friendly people, diverse adventure, and exceptional value."
Rubio noted that, for North Americans, any additional time and airfare costs associated with a visit to Argentina is more than offset by the amazing affordability of lodging, dining, fine wine and almost all other travel expenses.
For those with a larger appetite for the delectable Argentine lifestyle, Rubio is offering a worry-free, no-hassle way to own real estate in P Hotels' three locations. He has teamed up with DCP International, which pioneered the luxury residence club concept, to create The Residence Club of Argentina. http://www.residenceclubofargentina.com , Members will have an equity interest in Buenos Aires, Mendoza and Bariloche hotel suites and unlimited use, subject only to use by other members. Rubio said one of the most attractive aspects is that the P Hotel staff takes care of all the ownership responsibilities and makes each Argentine vacation seamless, whether the visit incorporates one or all three of the Club locations.
"The only thing our members have to worry about is when they are returning for another incredible vacation in a truly amazing country," Rubio said.
For more information on P Hotels or the Residence Club of Argentina, contact Eddie Rubio at 435-200-3411.