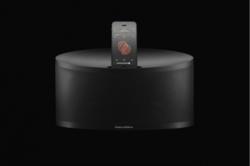 Z2 offers the best of both worlds, functioning equally well as a wireless speaker and iPhone or iPod dock
(PRWEB UK) 28 March 2013
Bowers & Wilkins, the British loudspeaker company, has expanded its high end wireless speaker range with the amazing new B&W Z2, a versatile new speaker dock that offers effortless wireless streaming with Apple AirPlay.
The Bowers & Wilkins Z2 offers the best of both worlds, functioning equally well as a wireless speaker and iPhone or iPod dock. The speaker's Lightning connector is compatible with the very latest generations of iPhones and iPods, and this dock is discreetly hidden until it is required in a fluid, minimalist design that is pure Bowers & Wilkins.
The Zeppelin Z2 is a smaller alternative to the acclaimed Bowers & Wilkins Zeppelin Air iPod Dock. That device was praised throughout the tech community but the Bowers & Wilkins Z2 promises to garner even greater affection. It is already winning rave reviews in the online gadget press.
With Apple AirPlay, audiophiles can play their favourite tunes through their crystal clear Bowers & Wilkins speaker without a physical connection to their iPhone, iPod, iPad or iTunes for PC and Mac. Users simply think of a song, select it on their AirPlay enabled device and then play the song from anywhere in the room, streamed direct to their Z2. With more than one Zeppelin Z2, they can even walk from one room to another, and their music will move with them.
The Z2 wireless speaker is compact enough to fit in almost any space, and its iconic design guarantees to look great, but despite its size this brilliant device offers big, pristine sound. This is possible thanks to the engineering brilliance at work on the inside.
Custom drivers made from stiff, light glass fibre create a natural audio, and these drivers are housed in a glass reinforced ABS enclosure for impeccable detail at any volume. The latest class D amplifiers, proprietary Digital Signal Processing and low noise power supply combine to create a clear audio signal free of rattling or humming sounds. Meanwhile, the Flowport guarantees clean, clear, rich bass playback.
Choose a top of the range wireless speaker and a latest gen iPod dock, by choosing the Bowers & Wilkins Z2; the best of both worlds in one stunning, compact package.
For more information on the Zeppelin Z2 wireless speaker and the rest of the iconic Bowers & Wilkins range, visit the company's official website today.