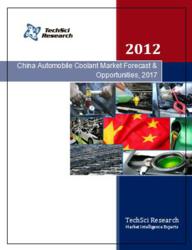 China Automobile Coolant Market Set To Grow At 7.7% CAGR Till 2017
Vancouver, British Columbia (PRWEB) March 28, 2013
China is the world's second largest economy and is rising primarily on the heels of its manufacturing sector. In addition, China is also the world's most populous country with a population of over 1.3 Billion which highlights a huge domestic market. China has one of the largest automobile industries in the world accounting for a large chunk of global automobile production. The country's manufacturing sector is well known for cost effective production and easy availability of cheap labor. Over the last few years, the automobile market of the country has grown significantly which has directly benefited the automobile coolant sector. The country accounts for a massive market for automobile coolants alone and also has a huge demand for replacement automobile coolants.
According to a recently published report by TechSci Research "China Automobile Coolants Market Forecast and Opportunities, 2017", China's automobile coolant market has great growth potential. The market is expected to grow at a compound annual growth rate of 7.7%, over the next five years and reach revenues of over USD 1.5 Billion by 2017. The demand for automobile coolants has risen on the back of economic growth of China, increasing middle class population, rising demand for commercial and passenger vehicles etc.
"The coolant market in China is highly fragmented and most of it is dominated by large unorganized players having region specific presence. There are several organized players in the market as well but they are facing extreme competition from the unorganized sector. The market can be categorized on the basis of their chemicals which include ethylne glycole, organic acid etc. Ethylne glycol based coolant is the most commonly used automobile coolant in China," highlights report by TechSci Research.
"China Automobile Coolant Market Forecast and Opportunities, 2017" has analyzed the growth potential of the automobile coolants in China and provides statistics and information on market sizes, shares and trends. The report will suffice in providing the intending clients with cutting-edge market intelligence and help them take sound investment decisions. Besides, the report also identifies and analyzes the emerging trends along with essential drivers and key challenges faced by the industry.
To download complete report, please visit http://www.techsciresearch.com/2167.