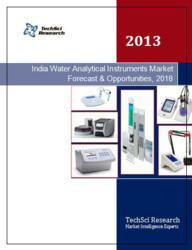 TOC Analyzers revenue share to surpass pH meters by 2018
Vancouver, British Columbia (PRWEB) March 29, 2013
The market for water analytical instruments in India is growing at a rapid rate as a result of increasing level of impurities and contamination level in the water. Water analytical instrument market has been divided into six segments pH meters, conductivity meter, turbidity meter, dissolved oxygen meter, total organic carbon analyzer and total phosphorous and nitrogen meter for this report. In 2012, pH meters were dominating the revenue share in India water analytical instruments market. However, within next five years TOC Analyzers will emerge as the highest revenue generator in India.
According to a recently published report by TechSci Research, 'India Water Analytical Instruments Market Forecast & Opportunities, 2018', the water analytical instrument industry of India is expected to witness healthy growth rate over the next five years. It is estimated that the market for water analytical equipments in India will cross revenues of USD 51 Million by 2018. The leading market players being Shimadzu, GE Analytical Instruments, Mettler Toledo, Thermo Fisher Scientific and Xylem Inc. The regulatory guidelines from the Government of India are fueling the demand for analytical instrument across the country.
Changing reforms regarding the disposal of water and waste water, upcoming projects on water and waste water are likely to drive the growth of this market. Growth of the countries pharmaceutical, petrochemical, chemical, paper and pulp and food industries are also among the major growth drivers of analytical instruments.
"India Water Analytical Instrument Market Forecast and Opportunities, 2018" has analyzed the growth potential of water analytical instruments in India and provides statistics and information on market sizes, shares and trends. The report will suffice in providing the intending clients with cutting-edge market intelligence and help them take sound investment decisions. Besides, the report also identifies and analyzes the emerging trends along with essential drivers and key challenges faced by the industry.
To download complete report, please visit http://www.techsciresearch.com/2169