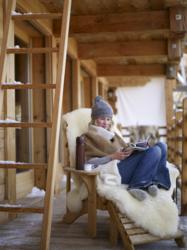 I wish I had never found out about your wonderful chalet, the rest of my life will now seem a huge disappointment.
Berlin, Germany (PRWEB) March 27, 2013
Welcome Beyond is proud to announce that the chalets of CK Verbier are now part of its hand-picked selection of truly memorable luxury holiday destinations worldwide. CK Verbier are four beautiful private ski chalets nestled in the hills of famous ski resort Verbier in the Swiss Alps.
Lovingly furnished with much attention to detail, each chalet has its distinctive charm. From fossilized giant elk antlers to pieces of Scandinavian folk art, the interiors reflect the owner's personal style. "Mountain style is a lot about texture, from the rough-cut mountain stone to the beauty of hand-cut old wood, softened with wool, cashmere and fur," owner Liz describes the flair of the chalets.
Each chalet is fully staffed and pampers guests with high-quality, personal service. They sleep from 4 to 14 people and make ideal holiday homes for the whole family or a group of friends. The lovely quadruple bunkroom at Chalet Kernow with its own plasma screen TV, for instance, makes the perfect room for kids. Wine lovers have access to excellent complimentary house wines but can also order from one of the finest wine cellars in the Alps. The facilities include everything guests could wish for: a spa, a gym and a pool as well as a professional chef and driver on request. At Chalet Kernow guests can watch the sunset in the outdoor Jacuzzi or relax in the chalet's mini spa offering a sauna, hot-stone massages and in-house Pilates classes.
The charming village of Verbier, famous for its original Alpine charm, is one of Switzerland's top ski resorts and easily reached from Geneva or Sion Airport. Over 400km of official piste — and widespread off-piste trails — provide plenty of extraordinary skiing experiences, for beginners to advanced skiers. Verbier also offers a wide range of après ski locations and nightlife, including one of the most famous nightspots in the Alps, the Farm Club, as well as many mountain restaurants accessible by foot (some might require snow shoes though).
To get more information about CK Verbier as well as other unique holiday properties, visit Welcome Beyond.