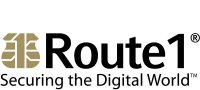 Toronto, Canada (PRWEB) March 26, 2013
Route1 Inc. (TSXV: ROI), a digital security and identity management company, today announced that the U.S. Navy has notified HP that an Authorization to Operate (ATO) was recently granted for the "Unclassified DEFIMNET MobiKEY Secure Remote Access Solution" on the Unclassified NMCI Enterprise.
This ATO authorizes NMCI and Washington Headquarters Services users to utilize the "Unclassified DEFIMNET MobiKEY Secure Remote Access Solution".
Under the terms of a previously announced agreement, Route1 sells its integrated security and identity management solution through HP to the U.S. Navy to meet the need for universal, secure remote access to its digital resources and sensitive data. The Route1 MobiKEY solution for the U.S. Navy is composed of the DEFIMNET, Route1's private communications and service delivery platform, its MobiKEY application software (formerly TruOFFICE), and its MobiKEY Fusion device.
In June of 2011, the Route1 MobiKEY solution became a contract line item number under the NMCI continuity of services contract (CoSC) held by its prime contractor HP. The NMCI supports more than 700,000 U.S. Navy and Marine Corps military and civilian personnel. As of today's date, the U.S. Navy has procured approximately 2,190 devices, and as of February 28, 2013 had 1,100 paid, active subscribers.
ABOUT ROUTE1, INC.
Route1 delivers industry-leading security and identity management technologies to corporations and government agencies who require universal, secure access to digital resources and sensitive data. These customers depend on The Power of MobiNET - Route1's universal identity management and service delivery platform. MobiNET provides identity assurance and individualized access to applications, data and networks. Headquartered in Toronto, Canada, Route1 is listed on the TSX Venture Exchange.
For more information, visit our website at: http://www.route1.com.
This news release, required by applicable Canadian laws, does not constitute an offer to sell or a solicitation of an offer to buy any of the securities in the United States. The securities have not been and will not be registered under the United States Securities Act of 1933, as amended (the "U.S. Securities Act") or any state securities laws and may not be offered or sold within the United States or to U.S. Persons unless registered under the U.S. Securities Act and applicable state securities laws or an exemption from such registration is available.
Neither the TSX Venture Exchange nor its Regulation Services Provider (as that term is defined in the policies of the TSX Venture Exchange) accepts responsibility for the adequacy or accuracy of this release.
© Route1 Inc., 2013. All rights reserved. Route1, the Route1 and shield design Logo, SECURING THE DIGITAL WORLD, Mobi, MobiSecure, MobiLINK, Route1 MobiKEY, Route1 MobiVDI, MobiKEY, MobiKEY IBAD, DEFIMNET, MobiNET, Route1 MobiNET, TruOFFICE, TruFLASH, TruOFFICE VDI, MobiKEY Fusion, MobiNET Aggregation Gateway, MobiNET Switching Array, MobiNET Secure Gateway, EnterpriseLIVE, EnterpriseLIVE Virtualization Orchestrator, MobiNET Agent, MobiKEY Classic and MobiKEY Classic 2, are either registered trademarks or trademarks of Route1 Inc. in the United States and or Canada. All other trademarks and trade names are the property of their respective owners. The DEFIMNET and MobiNET platforms, the MobiKEY, MobiKEY Classic, MobiKEY Classic 2, and MobiKEY Fusion devices, and MobiLINK are protected by U.S. Patents 7,814,216 and 7,739,726, and other patents pending.