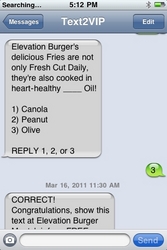 By logging in from my computer and sending just one text offer from our Text2VIP account, we have the ability to increase our average same day sales by nearly 80%
Naples, FL (PRWEB) March 28, 2013
A franchisee's nutritionally superior product appears to have met the most immediate form of marketing in South Florida. This match in hamburger heaven has been regularly taking place through the use of text message marketing at both Elevation Burger Naples and Gulf Coast Town Center in Ft Myers, Florida.
By using the Social & Text Message blast platform of Atlantic City NJ based Text2VIP, Elevation Burger collects thousands of opt-ins and sends subsequent alerts and text message offers.
"By logging in from my computer and sending just one text offer from our Text2VIP account, we have the ability to increase our average same day sales by nearly 80%", says General Manager Sean Rowland. "It's like capturing an additional day of guest traffic, which simply can't be replicated by marketing channels like e-mail, print and direct mail."
According to Text2VIP Executive Director Terry Robinson, the exceptional response seen by this Elevation Burger franchisee has been anything but surprising. "From the day Sean's Elevation Burger stores launched their text programs with us, their text campaign management and execution has been as excellent as their product and restaurant operation", said Robinson. "Even though the Elevation Burger buzz has caught on and many in Southwest Florida have become fans of their USDA certified organic burgers, you simply don't build a restaurant text message database of so many thousands without focus and follow through."
In business for five years, Text2VIP began working with Elevation Burger in 2009 and was later selected as the text message software provider of choice for Elevation Burger franchisees in a March 2011 announcement. With an industry leading read rate exceeding 98%, text messages have become a marketer's dream and these text offers are becoming increasingly more popular among consumers. "I can reach our Elevation Burger guests in a moment's notice, at anytime", said Rowland. "It's not uncommon for us to see 10-15% redemption in a 24 or 48 hour period, the response is instantaneous."
"Sean has incorporated SMS into many of the brand's community initiatives," according to Robinson. "Their stores are very active in their local communities and Sean has done an outstanding job integrating SMS and compiling interest groups on multiple levels." A recent example being the use of a celebratory SMS targeted to local fans and students of the newly famous Florida Gulf Coast University. If the opt-out rate has been any indication, these Elevation Burger franchisees are appealing to the masses. "Our messages are received and read by thousands of guests, and we typically see an opt-out rate of about 1%."
About Text2VIP: Privately held Text2VIP is headquartered in Atlantic City, NJ and is the text marketing software provider to national brands Apricot Lane, Bare Feet Shoes, and Skinny Water. Additional clients include independent retailers and franchisees of Chick-fil-A, Pita Pit, Dominos Pizza, Dairy Queen, Rita's Ice, Moe's Southwest Grill, Yogen Fruz, Tasti D Lite, Salad Creations, Saladworks, Subway, and Krispy Kreme.