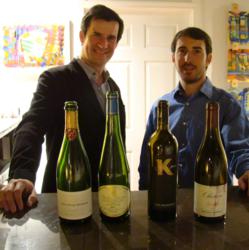 "Having tasted a large number of high-quality organic wines over many years in the wine business, we thought it was unfortunate that people were missing out on wonderful organic wines due to stereotypes and misinformation."
-Laura Collier
Raleigh, NC (PRWEB) March 29, 2013
TheWineFeed.com, an innovative wine retailer based in Raleigh, NC, is pleased to announce their Revive Organic Wine Club is now available for shipment to Washington DC. Revive was created to satisfy customer demand for quality wines and reliable information--and it helps alleviate customer confusion regarding an often misunderstood segment of the wine market. While Revive has been available for North Carolina customers since November 2012, the recent opening of the Washington DC market allows those consumers a convenient and affordable way to explore organic wines.
The Revive wine club offers those eager to learn about organic wine an informative, in-depth exploration of the subject without coming off as overly technical or preachy. Members receive two bottles of wine each month after choosing the option that best suits their taste preferences: whites only, reds only, or assorted. Along with the wines, The Wine Feed also provides club members access to a special section of their website that highlights producers and their farming practices, as well as the vineyards, winemaking practices, and winegrowing regions.
The Wine Feed is also dedicated to educating customers and takes the time to explain important topics like the difference between organic and biodynamic farming and the use of sulfites in winemaking.
Laura Collier oversees The Wine Feed's Revive wine club. When asked why The Wine Feed started Revive, Laura replied: "Having tasted a large number of high-quality organic wines over many years in the wine business, we thought it was unfortunate that people were missing out on wonderful wines due to stereotypes and misinformation. Much of the information available on organic wines is hard to find, and at times, unreliable. We also determined that the focus should be primarily on the taste and quality of the wines, as well as the stories of the producers, their vineyards, and their traditions. This information is much more engaging than the science or the politics of organic farming."
To further their commitment to the environment, all recipients of the Revive wine club receive their wines protected by 99% post-consumer recycled pulp trays. The Wine Feed pays for carbon neutral shipping to offset the CO2 emissions created from shipping Revive via UPS.
TheWineFeed.com also offers three other wine club options: Relax, Savor, and Inspire. All of these wine clubs offer two high-quality wines per month at accessible price points. To learn more about The Wine Feed's Revive Organic club and all of the company's products, please visit: http://www.thewinefeed.com.