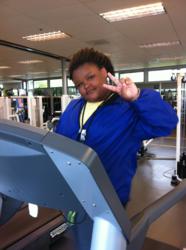 "When I found out I had Type 2 diabetes I was really sad," said former BalanceME camper Destany Martin, "But it has motivated me to become a healthier being."
Asheville, NC (PRWEB) March 26, 2013
BalanceME fitness and weight loss health camp have joined the efforts to support National Diabetes Alert Day on March 26, 2013. This Alert Day is designed to provide a "wake up call" to the millions of Americans whose unhealthy habits leave them susceptible to Type 2 Diabetes. Each BalanceME health camp works with children and young adults using The ME Plan, designed to Motivate & Educate families on what science and experience shows works, for lasting health changes.
According to recent estimates, about 1 in 400 American children have diabetes, with the incidence rate on the rise due to the unhealthy lifestyles of today's youth. Primary factors contributing to diabetes include excess weight, poor eating habits, and lack of physical activity.
"At each BalanceME health camp we are helping our campers lower their fat intake, reduce calories and sugars, and dramatically increase physical activity," commented John Taylor, chairman of BalanceME's scientific advisory board, "With these changes, our campers lose a significant amount of weight and reduce the risk factors for Type 2 diabetes."
Destany Martin, a camper who attended BalanceME in 2012, suffers from Type 2 diabetes. "When I found out I had Type 2 diabetes I was really sad. I felt I had embarrassed my parents and my weight was out of control," says Martin of learning she had Type 2 diabetes. "But it has motivated me to become a healthier being."
Martin lost forty pounds at a BalanceME health camp, reduced her BMI nearly six percentage points, lost nine percent of her body fat, and reduced her waist by nine inches. She credits the staff and the ME Plan for helping change her life.
"It has changed me in so many ways. It is an experience I will never forget," comments Martin on the impact attending BalanceME fitness and weight loss health camp.
For families concerned about their children developing Type 2 diabetes BalanceME fitness and weight loss health camps offer the following advice:
- Do as I do. Model healthy behaviors for your children. Reduce sugar intake by reducing the amount of soda and candy. Exercise a minimum of four times per week.
- Do it together. Make dinner rather than eating out. Encourage your child to participate in menu selection and food preparation. Ride bikes or take a family walk together.
- Take it seriously but slowly. Particularly for younger children, make subtle changes. Try not to describe the healthier changes in negative terms or set up unhealthy rewards for completion of daily changes.
- Set goals. Work towards short-term and long-term goals for better health. Every person in the family can benefit from eating better and exercising more regardless of risk factors for any particular family member.
For more information about how to support National Diabetes Alert Day for adolescents or more information about BalanceME health camps, please contact BalanceME directly at (800) 975 – 0435.
###
BalanceME health camps (http://www.BalanceME.com) were created in response to the growing obesity epidemic and the unmet needs for a realistic, scientific, and personalized approach to fitness and weight loss. The BalanceME approach, called the ME Plan, is designed to Motivate & Educate on diet + activity + lifestyle changes. Founded by professionals and guided by experts who provided leadership to some of the largest behavioral health, mental health, and treatment programs in the country, BalanceME is working to become the leader in fitness and weight loss programs. BalanceME operates three summer camps in Cape Cod, Massachusetts, Dallas, Texas, and Santa Cruz, California. For additional information please visit http://www.balanceme.com or call (800) 975-0435.