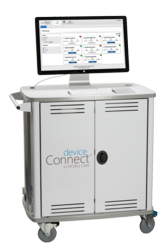 We want to bring order to the chaos today's enterprise organizations face when it comes to mobile app testing
Atlanta, GA (PRWEB) March 26, 2013
Mobile Labs, LLC, a leader in automated, cross-platform mobile application testing, today announced its partnership with Orasi Software, Inc., a software reseller and professional services company focused on enterprise quality testing and management. The companies entered into an agreement naming Orasi a Value-Added Reseller (VAR) of Mobile Labs' portfolio of enterprise solutions. Specifically, Orasi will resell deviceConnect™, an internal device cloud that delivers secure, comprehensive management capabilities for mobile devices in corporate test labs. deviceConnect includes Mobile Labs' flagship solution, Mobile Labs Trust™, a cross-platform, automated mobile application testing tool. Enterprise quality assurance teams can also use deviceConnect to support manual mobile application testing.
Mobility has created unprecedented pressure on enterprise software developers and testers. Unlike traditional software development and testing, where software professionals have months to develop new builds and industry standard testing methodologies are already in place, mobility is famous for compressed development and testing cycles with testing best practices still in flux. New mobile devices and Operating Systems (OS's) come out at a frenetic pace, making it difficult for development and testing teams to keep device inventories and OS's up to date. In addition, this constant change coupled with the need to quickly develop and deploy new apps and app updates – all of which require continuous testing – make enterprise mobile application testing time-intensive and costly. As a result, many companies deploy apps before they are fully tested, often resulting in application quality issues. In fact, Cap Gemini, HP and Sogeti's 2012-2013 World Quality Report found that, "Two-thirds (65 percent) of organizations surveyed do not have the right testing tools to test mobile applications and equally concerning is the 52 percent who do not have access to the required devices."
According to Orasi President and CEO, Nick Kavadellas, "Orasi has been focused on application quality and testing for over 10 years. As applications reach the mobile platform, quality, reliability and performance become critical to our customers. Our partnership with Mobile Labs provides the ability to give our customers access to the right devices at the right time, in a secure environment, as well as provide test automation helping to speed applications from development to end user deployment"
Mobile Labs President and CEO Don Addington added that the mobile application testing market is chaotic. Managing the smartphones and tablets inside a company's four walls is relatively easy when it consists of a limited number of devices, but companies are quickly growing their testing device portfolio, making it harder to manage and track testing assets. Factor in the influx of new devices and OS's, numerous apps in the backlog plus updates to existing apps, globally distributed testers who need access to devices and apps, and an increased emphasis on speedy development and testing cycles and you have a messy situation.
"We want to bring order to the chaos today's enterprise organizations face when it comes to mobile app testing," Addington explained. "In Orasi, we have a partner who shares our mission to do everything we can to simplify the time-consuming and error-prone tasks related to testing, distributing, managing, and monitoring in-house apps so companies can realize a faster ROI. Orasi's proven track record of successful account acquisition and solutions delivery ensures our shared customers will receive cutting-edge solutions and comprehensive support for mobile device lab management and manual as well as automated mobile app testing."
deviceConnect is a second-generation, software-based device cloud that revolutionizes mobile device sharing by making it economically and physically possible for more organizations to benefit from device cloud management. Using a very light hardware footprint, deviceConnect can be rapidly deployed anywhere within an enterprise that has Ethernet connectivity, and a deviceConnect cart may be easily wheeled from location to location without the need for environment or power experts and with very brief downtime. deviceConnect is a complete solution, delivered to the customer configured and ready for use. Its simple Web-based management interface allows anyone within the organization to manage the device cloud without specialized training or tools.
Unlike public device clouds, deviceConnect's installation inside an enterprise's corporate infrastructure makes it highly secure. In addition, its location behind the corporate firewall makes it easy to install and manage. The solution can be remotely maintained with new releases pushed to the customer, if requested. Housed in a compact mobile cart, deviceConnect takes up a fraction of the space in a data center that other on-premises solutions occupy. This turnkey solution is a device and accessibility manager that also supports manual and automated mobile application testing.
About Mobile Labs
Mobile Labs is a leading provider of end-to-end mobile application testing solutions for the enterprise. Architected to tightly integrate with the industry's leading automated testing platform, Mobile Labs Trust™ is an automated, cross-platform solution that performs comprehensive testing of enterprise mobile apps. Mobile Labs Trust helps ensure application quality across multiple mobile platforms and enables enterprises to deploy fully tested, high quality mobile applications faster. Mobile Labs deviceConnect™, an internal device cloud, delivers comprehensive management capabilities for mobile devices in corporate test labs. The patent-pending technology is internal to a company's worldwide infrastructure, providing highly secure access to and management of the entire inventory of test devices across major mobile platforms. For more information, please visit http://www.mobilelabsinc.com.
About Orasi
Orasi is an Atlanta-based software reseller and professional services company focused on enterprise software quality testing and management. An HP Software Specialist Enhanced Partner, Orasi resells products and offers certified consulting services for HP Software's Application Lifecycle Management (ALM) solutions, as well as mobile testing, HP Enterprise Security, and cloud-based performance testing and monitoring solutions. Orasi also provides standard software support, acting as the customer's single point of contact and coordinating the efforts of local support teams and HP Support. For more information, visit Orasi's web site at http://www.orasi.com.
###