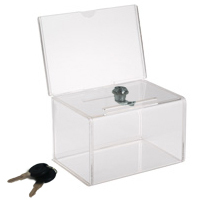 Millions of dollars are raised annually by a number of outstanding organizations, and the charitable nature of Americans helps worthwhile endeavors come to life
Norco, CA (PRWEB) March 28, 2013
For non-profit organizations and charitable causes of all sorts, fundraising is extremely crucial. To help accelerate the process, Plastic Products Manufacturing (PPM) is proud to announce the release of a new acrylic Donation Box that will play an integral part in successful fundraising drives. Functional, secure, and appealing to the eye, this new box joins a long line of successful PPM acrylic donation boxes and suggestion boxes. A new top-locking feature adds to this durable box's protective attributes, its dimensions and Sign Holder make it optimal for counter top display.
"Millions of dollars are raised annually by a number of outstanding organizations, and the charitable nature of Americans helps worthwhile endeavors come to life," commented PPM President William Saunders. "In our experience working with some really reputable non-profit agencies, we've learned that people actually feel inclined to give more when they're able to see that others also support their mission."
This new mini Donation Box will be no exception to that psychological advantage. At 6-1/8" wide by 4-3/8" high with a slot size of 3-3/8" x ¼", this box's thick acrylic really holds its own in more ways than one. According to Saunders, "Of course, anything containing money in high foot traffic areas cannot break…that's rule number one." While the design can be deceptively simple, the security offered by the locking mechanism keeps this new Mini Donation Box sealed tight. And where the transparency of acrylic appeals to the giving nature of so many, "we know it only takes one to try taking instead," said Saunders. "The top lock and acrylic thickness make what's INSIDE only accessible to those with the key."
The 6" x 4" Sign Holder aspect adds a major part to the appeal of this Mini Donation Box. It's enclosed on the bottom and sides, with a thumb notch that makes it user friendly. Add your significant information and eye-catching graphics, and this donation box will fill quickly. The hardest part of the challenge will be determining where to place the boxes for maximum fund raising potential. Campaigns of all sizes will benefit and PPM's past experience with other portable mini donation box designs has proven valuable in many highly successful drives.
Specializing in manufacturing and distributing Acrylic Display Products, Signage, and Point-of-Purchase displays for more than three decades, Plastic Products Manufacturing has a strong reputation for top quality standards, outstanding delivery, and an exclusive "Customer Bill of Rights." Among its top accounts, PPM serves the needs of organizations like the ASPCA as well as businesses like Proctor and Gamble, Starbucks, WalMart, Walgreens, Hertz, T-Mobile, Target, and Honda just to name a few. For more information about PPM and insight into these upcoming new developments, please visit http://www.plasticproductsmfg.com.