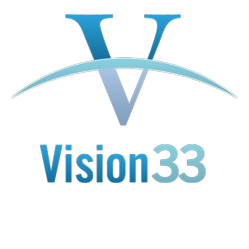 Vision33 is continually amazed by the novel ways that our clients leverage technology to drive growth and achieve measureable success. This year Vision33 is happy to present the Visionary Awards to acknowledge their effort and thought leadership
Irvine, CA (PRWEB) March 27, 2013
Vision33 Inc., an SAP gold channel partner and leading provider of enterprise resource planning (ERP) solutions for the small to midsized enterprise (SME) market, today announced the winners of its annual Visionary customer awards program. Recipients are recognized for best use of the SAP® Business One application in obtaining valuable insight to drive their company growth and achieve business goals. The winners this year include Diono, Envelopments, FreshOne, Pro-face, and TEAM Enterprises.
"Vision33 is continually amazed by the novel ways that our clients leverage technology to drive growth and achieve measureable success. This year Vision33 is happy to present the Visionary Awards to acknowledge their effort and thought leadership in maximizing customer value delivered through technology," commended Alex Rooney, Vice President, Vision33. "Vision33's experienced Consultants understand how to maximize value achieved through technology and remain committed to supporting our customers through their continued success."
Selected from amongst hundreds of valued Vision33 customers across the U.S., this year's award winners best demonstrated new ways to leverage SAP's transformative technology solutions implemented by one of Vision33's 13 regional offices across the U.S:
Diono LLC (us.diono.com) – Based in Puyallup, Washington with offices around the globe, Diono manufacturers some of the safest car seats in the industry and a wide range of convenient travel accessories. Diono's imagination, ingenuity and solid commitment to customers has resulted in many award-winning products. By continuously transforming the industry, Diono's success has earned it four appearances on the Inc. Magazines 500 Fastest Growing Private Companies, and product availability in 54 countries. With SAP Business One now integrating its global operations, Diono is positioned for further accelerated growth. Committed to new ways to provide the most value to customers and employees, Diono has extended the reach of its SAP Business One data through zedSuite Portal solutions.
Envelopments Inc. (envelopments.com) – Located in Santa Ana, California, Envelopments is a build-to-order manufacturer of custom communiqués and exemplary paper presentations offering the largest selection of custom enclosures, card stocks, papers and envelopes. Envelopments is the pioneer of the mix and match system of paper products, ideas and related tools, all while focusing on quality, unsurpassed customer service and extremely fast fulfillment. In its continued effort to deliver greater value to its customers, Envelopments has leveraged SAP Business One to obtain insight to predict and manage inventory on a minimum level so that they can reduce excess inventory costs and achieve a shorter turnaround for customer orders.
FreshOne LLC (fresh-one.com) – Located in Dallas, Texas, FreshOne is a grocery and convenience store wholesaler that provides custom pre-packaged, fresh food products and related value added services on a nationwide basis. FreshOne's focus is to provide its customers with quality products and build long-term relationships, while working with them to find the most profitable solution. FreshOne has been taking advantage of the flexible accounts receivable capabilities in SAP Business One, which allows transactions to be sent and received electronically – importing hundreds and sometimes thousands of orders in just minutes. As a result, FreshOne has become a greener company that operates more efficiently with very little printing.
Pro-face (profaceamerica.com) – headquartered in Ann Arbor, Michigan, Pro-face, a division of Schneider Electric, is a leading global supplier of a broad range of industrial automation hardware and software solutions. Pro-face is supported by 17 major offices and over 1,200 representatives around the world and offers leading industry technology products. As a proven and trusted industry innovator with more than 40 years of experience, Pro-face's solutions are installed in the world's most recognized manufacturing facilities. Keeping pace with its innovative technology, Pro-face now employs SAP Business One to accept orders from a multitude of channels including direct, distributors, representatives and installers. Pro-face is now able to deliver an exceptional end-customer experience through integrating SAP Business One with its eCommerce solution, zed eCommerce (zedsuite.com), for a truly integrated sales platform.
TEAM Enterprises (teamenterprises.com) – located in Fort Lauderdale, Florida, TEAM Enterprises is a global marketing provider with over 400 full-time employees and 6,500 event specialists located in every major city across the U.S. From traditional sampling or mobile tours to the most innovative high-tech engagements, TEAM Enterprises employs a full palette of tools to ensure client brands resonates with the consumer. Viewing SAP Business One as central to its global operation, TEAM Enterprises has further leveraged the application by empowering employees to enter time and expenses through zedSuite's portfolio of Web solutions for SAP Business One. Additionally, TEAM Enterprises connected its ADP payroll solution to SAP Business One, which eliminated many hours of manual data manipulation. This has enabled TEAM Enterprises time to focus on moving forward with new initiatives, adding value to its client base and improving overall profitability.
"We congratulate this year's winners of Vision33's Visionary customer awards, all of which are also SAP Business One customers," said Mark Milford, National Vice President, North America Ecosystem Group, SAP. "This award program created by Vision33 embodies the customer-centric values we promote within the SAP PartnerEdge® program. As an SAP channel partner for SAP Business One, Vision33 has empowered many small businesses to implement the solution and achieve their objectives of improved growth, lower costs and a better understanding of business processes."
About Vision33
Headquartered in Irvine, California, Vision33 Inc. (vision-33.com) is a leading business management software solutions provider, focused on reselling and supporting the SAP® Business One application and the SAP Business ByDesign® solution. Through its 13 offices located throughout the U.S., Vision33 provides software and consulting services to enable small to midsized businesses to gain immediate benefits in better managing and growing their businesses.
As an SAP gold channel partner, Vision33 has more than 500 customers throughout the U.S. Vision33 has been consistently honored for its notable growth and dedication, earning titles and awards such as the SAP North America Partner Excellence Award 2013: Top Channel Partner – SAP Business One; SAP Business One Partner of the Year, U.S., in 2012; Accounting Today's Top VAR 100 List; INC500/5000 fastest growing company lists; the Orange County Business Journal Fastest Growing Company List; and recognized as a finalist for a 2012 SAP Pinnacle award in the category "SAP PartnerEdge® Global Fastest Growing Reselling Partner of Year."
Vision33 is a member of the Group zed family of companies. With roots dating to 1992, Group zed (http://www.gzed.com) is a privately owned and operated corporation, which provides its family of industry leading companies with the strategic vision and tools to deliver on the promise of technology to customers, setting them apart from other industry peers.
# # #
SAP, ByDesign, PartnerEdge and all SAP logos are trademarks or registered trademarks of SAP AG in Germany and in several other countries all over the world. All other product and service names mentioned are the trademarks of their respective companies.
SAP Forward-looking Statement
Any statements contained in this document that are not historical facts are forward-looking statements as defined in the U.S. Private Securities Litigation Reform Act of 1995. Words such as "anticipate," "believe," "estimate," "expect," "forecast," "intend," "may," "plan," "project," "predict," "should" and "will" and similar expressions as they relate to SAP are intended to identify such forward-looking statements. SAP undertakes no obligation to publicly update or revise any forward-looking statements. All forward-looking statements are subject to various risks and uncertainties that could cause actual results to differ materially from expectations The factors that could affect SAP's future financial results are discussed more fully in SAP's filings with the U.S. Securities and Exchange Commission ("SEC"), including SAP's most recent Annual Report on Form 20-F filed with the SEC. Readers are cautioned not to place undue reliance on these forward-looking statements, which speak only as of their dates.
For more information, Press Only: Sarah Coish +1 (949) 420-3000, sarah.coish(at)vision-33(dot)com