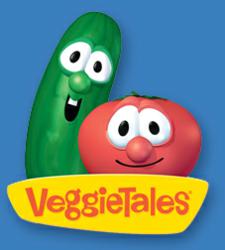 (PRWEB) March 26, 2013
Easter is a holiday that brings out the child in all of us, and at Smile of a Child, Trinity Broadcasting Network's exclusive kid's channel, this Easter weekend features a pair of holiday themed VeggieTales cartoons the whole family will enjoy.
"Smile of a Child is the exclusive network carrying VeggieTales," said SMILE program director Brenda Rossman. "And, during the Easter weekend we're featuring two hour-long VeggieTales cartoons that will keep kids of all ages entertained while re-enforcing the truth about the resurrection of Jesus Christ that is so important for everyone to understand."
In the VeggieTales classic 'Twas the Night Before Easter, there's not a creature stirring on the eve of Sunday's Resurrection celebration — except for a gigantic 20-foot robotic rabbit who's ready to star in the biggest show ever to open in the VeggieTales world of Crisper County: the musical egg-stravaganza "Up with Bunnies!" But with all the excitement surrounding this "hare-raising" production, will folks forget the true meaning of Easter? Airs Saturday, March 30 at 10:00 a.m. and 7:00 p.m. Pacific Time (12 noon and 9:00 p.m. Central, 1:00 p.m. and 10:00 p.m. Eastern), and Easter Sunday March 31 at 10:30 a.m. Pacific (12:30 p.m. Central, 1:30 p.m. Eastern).
And in An Easter Carol, a VeggieTales twist on the Charles Dickens classic, Ebenezer Nezzer is on a rampage to make Easter "bigger than ever" by using mechanical chickens to fill London with plastic Easter eggs. In an unforgettable hour of music and cartoon action, Cavis and Millward — played by VeggieTales favorites Bob the Tomato and Larry the Cucumber — team up with a music box angel named Hope — voiced by Grammy Award-winning Christian singer Rebecca St. James — to convince Nezzer that Easter is about a lot more than just candy and eggs. Airs Saturday March 30 at 6 p.m. Pacific (8:00 p.m. Central, 9:00 p.m. Eastern) and Easter Sunday March 31, at 5:00 p.m. Pacific (7:00 p.m. Central, 8:00 p.m. Eastern).
"There's no better time to share the life-changing gospel of Jesus Christ with children than Easter," said TBN and Smile of a Child founder Dr. Paul Crouch. "And with the creative and entertaining way they present the gospel, there's no better vehicle for sharing Jesus with children than VeggieTales cartoons. It all makes for a perfect moment for moms, dads, and grandparents to lead their kids and grandkids in the most important decision they'll ever make."
For more about TBN's exclusive Smile of a Child television network, log on to smileofachild.tv.