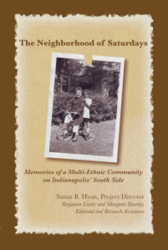 Fascinating stories emerge about the colorful neighborhood.
Indianapolis, IN (PRWEB) March 26, 2013
Anthropology students at Indiana University-Purdue University Indianapolis participating in a project to collect oral histories, photographs and other memorabilia from what was once one of the most multi-ethnic neighborhoods in Indianapolis did more than just document a period in history – they brought the former residents of that community back together. As this new book documents, two of the groups from that community, African-Americans and Jews, had once lived side-by-side in that Southside neighborhood, sharing not just physical space but also bonds of friendship and fellowship. Their ties remained, despite the forces that scattered them including upward mobility in the postwar period and the construction of an interstate. For the last 38 years, 200 to 300 former residents of that community, along with their families and friends, have continued to gather annually for a picnic near a park by Lucas Oil Stadium on the first Saturday in August.
The book, "The Neighborhood of Saturdays: Memories of a Multi-Ethnic Community on Indianapolis' Southside," tells the story of this neighborhood, focusing on the area bounded by South Street to Morris Street, and West Street to Madison Street. The book covers the period from the 1920s to the construction of Interstate 70 in the early 1970s. Although the neighborhood included residents who were African-American, Jewish, Irish, German, Italian, Greek and Appalachian, the book concentrates on two groups in particular: Sephardic Jews, who came to Indianapolis in the early 20th century from Monastir (now Bitola) in southern Macedonia and Salonika (now Thessaloniki) in northern Greece, and African-Americans, who hailed from the South or from of other industrial cities in the Midwest. The near Southside was once the hub for the Indianapolis Jewish community, which also included Ashkenazic Jews from Eastern Europe and Russia; Shapiro's deli is the last remnant of that former thriving Jewish presence in the neighborhood.
Fascinating stories emerge about the colorful neighborhood, from its religious institutions, neighborhood schools, community centers, businesses and jobs, to its musical traditions, death and mourning traditions and the devastating effect of the construction of I-70. Its cast of characters included Charlie Wiggins, "the Negro Speed King;" William "Bill" Owens, a Negro League baseball player; and Edward Bay "Babe" Denny, who worked for the Department of Parks and Recreation for 35 years and was devoted to youth activities. The interviews and photos reveal a neighborhood that – even today – provides, as the book notes, "a model for reaching across racial and religious boundaries to support one another as members of one community."
Project Director Susan Hyatt, associate professor of anthropology at Indiana University-Purdue University Indianapolis, earned her PhD. at the University of Massachusetts-Amherst, her master's degree at the University of Michigan and bachelor's degree at Grinnell College. Hyatt, who is on sabbatical for 2012-13, was named Distinguished Harman Scholar of Applied Anthropology, Long Beach State University, for fall 2012. Benjamin J. Linder and Margaret Baurley served as editorial and research assistants for the book.
----------
For additional information, please visit http://www.neighborhoodofsaturdays.com.
The Neighborhood of Saturdays: Memories of a Multi-Ethnic Community on Indianapolis' South Side
Susan Hyatt
Dog Ear Publishing
ISBN: 978-1-4575-1491-3 228 pages $14.95 US
Available at Ingram, Amazon.com, Barnes & Noble and fine bookstores everywhere.
About Dog Ear Publishing, LLC
Dog Ear Publishing offers completely customized self-publishing services for independent authors. We provide cost-effective, fast, and highly profitable services to publish and distribute independently published books. Our book publishing and distribution services reach worldwide. Dog Ear authors retain all rights and complete creative control throughout the entire self-publishing process. Self-publishing services are available globally at http://www.dogearpublishing.net
and from our offices in Indianapolis.
Dog Ear Publishing – self-publishing that actually makes sense.