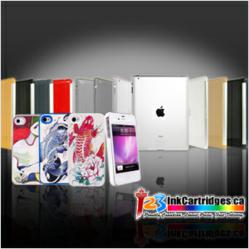 Montreal, Quebec (PRWEB) March 27, 2013
The Canadian based online distributer 123inkcarridges.ca has announced the addition of the Grablet Novus G2 to their inventory of Apple related products and gear. The Grablet Novus G2 is a specially designed case for use with the iPad 2, 3, and 4. The online retailer continues to announce additions of Apple accessories to their rapidly expanding inventory. The company hopes to meet a need of consumers who use Apple products such as the iPad by continuing to add various accessories that make using the computer more convenient.
The Grablet Novus G2 joins a full line of Apple accessories. The G2 is a chic case which is versatile and fits the iPad in such as way that it makes it more usable in various situations. The specially designed multi-functional case provides a handle which allows users to secure the computer safely. The newly designed "case" makes the computer more versatile and opens up opportunities for using it more frequently. The case attaches securely to the iPad and is designed with a special handle that can be used to transport the computer safely between locations; and makes it easier to use on the go and it is available in a wide variety of popular colors.
Users of the iPad can view this and other products online at: http://www.123inkcartridges.ca/catalog/search?q=grablet. The online retailer continues to provide accessories such as the Grablet which make using today's technology even more convenient. 123inkcartridges.ca also has a customer service department that is eager to assist consumers in making their selections or ordering their products.
About 123inkcartridges.ca
The online store began only offering high quality printer ink and toner cartridges. Consumers soon found that they were getting high quality products at an affordable price and the Canadian based distributer soon grew. They began to expand their inventory to include various types of computer and printer accessories. As consumers continue to purchase new gadgets, the online store continues to keep up with their demands and consistently adds accessories for the latest technological gadgets to their rapidly growing inventory which is now comprised of over 10,000 products. The full line of available products can be viewed online at http://www.123inkcartridges.ca.