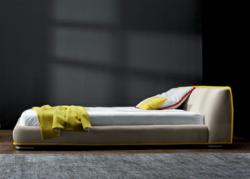 When you look at the dimensions of a standard double bed they don't add up to more than the width of two standard children's cots
London (PRWEB UK) 28 March 2013
Go Modern based on the Kings Road, Chelsea specialises in luxury contemporary furniture including a wide range of beds. March is National Bed Month and the company's extensive range of bedroom furniture includes a wide range of King Size and Super King Size beds but you may be surprised to know they don't stock double beds for adults.
Director Tina Mahony explains: "We established Go Modern in 2006 with the idea of selling the best European contemporary furniture we could source. Our designs are from some of Italy's best brands and we discovered very quickly that the top designers we were working with simply did not create traditionally sized double beds, unless they were for children or teenagers.
" We were shocked to discover that when you look at the dimensions of a standard double bed they don't add up to more than the width of two standard children's cots. A child's cot is 70cm wide, but a double bed, which is 135cm wide, gives each adult just 67.5cm of room! Double beds are only 190cm long too." said Tina.
Go Modern's bed ranges include UK King size beds ( 150cm x 200cm ) and Euro King (160cm x 200cm) but the Super King size beds (180cm x 200cm) which the company says are the most popular.
According to the latest research from The Sleep Council the number of Britons getting just five or six hours sleep has risen dramatically and 40% of us don't get the NHS recommended six to nine hours! Bedroom environment, heat, light and noise, are all important, and a good quality bed is definitely part of the picture. It's also recommended that you change your mattress every seven years, and with the average person spending about a third of their life sleeping, it makes sense to choose the best bed that you can.
So Tina Mahony's advice is to choose carefully: "We all spend a lot of time in bed and we always advise our customers to choose their new beds extremely carefully. Your weight, height and sleeping habits, including those of your partner, are crucial things to add to the equation when you're deciding on what you want. Our Italian suppliers know a thing or two about design and added to that - Italians have a reputation for being amongst some of the world's most romantic people. That makes a good design combination!".
Notes for editors
Based on the Kings Road, in the Chelsea Design Quarter, Go Modern was established in 2006. Their collection includes furniture and accessories from over 36 European designer/makers, leading names in the world of contemporary furniture design.
The Go Modern team hand pick all of their collection, making careful judgements on design, practicality and value, with the belief that modern furniture should be as good to use as it is to look at. The company prides itself on having some of the most innovative designs in the market today.
For press enquires, more information or high-res images please contact:
Press at Go Modern
e: press(at)gomodern(dot)co(dot)uk
t: 020 7731 9540