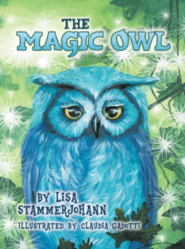 'The Magic Owl' is a charming tale about how sharing a love of books can lead to friendships and new adventures.
Mickleton, NJ (PRWEB) March 26, 2013
A little blue owl has a huge book collection deep in his forest home and longs to share. This new illustrated children's book tells what happens when he begins to secretly leave books with a boy he sees near the edge of the woods. As winter arrives, the owl wonders how he can keep sharing his books. The owl discovers his own magic and is able to deliver books under the boy's pillow. He then decides to share his gift with children all over the world who want to read.
"The Magic Owl" is a charming tale about how sharing love of books can lead to friendships and new adventures. Expressive illustrations by Claudia Gadotti help tell this whimsical story that's perfect for family lap-time reading and for starting a wonderful new family tradition.
Author Lisa Stammerjohann is a licensed counselor, writer, and speaker. This book was inspired by her son, diagnosed with Apraxia of speech at the age of three. The Magic Owl has been instrumental in encouraging him to read, write, and speak. Now the Magic Owl is ready to share his magic with all boys and girls who have a wish in their hearts to read. Parents all over are starting their own family traditions by allowing the Magic Owl to make book deliveries to their children, too. How does it get better than watching your child's face when he/she finds a book under his/her pillow? Whoo-hoo will the Magic Owl visit next?
For additional information, please visit http://www.themagicowlbook.com.
The Magic Owl
Lisa Stammerjohann
Dog Ear Publishing
ISBN: 978-1-4575-1621-4
26 pages
$24.95 US
Available at Ingram, Amazon.com, Barnes & Noble and fine bookstores everywhere.
About Dog Ear Publishing, LLC
Dog Ear Publishing offers completely customized self-publishing services for independent authors. We provide cost-effective, fast, and highly profitable services to publish and distribute independently published books. Our book publishing and distribution services reach worldwide. Dog Ear authors retain all rights and complete creative control throughout the entire self-publishing process. Self-publishing services are available globally at http://www.dogearpublishing.net and from our offices in Indianapolis.
Dog Ear Publishing – Self-publishing that actually makes sense.