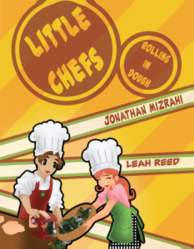 Jonathan Mizrahi's new cookbook walks children through every step of launching their own version of a food stand.
DAVIS, Calif. –
(PRWEB) March 27, 2013 -- A new generation of young entrepreneurs can find inspiration and education in creating and selling tasty treats right in their own neighborhood, thanks to a chef who enjoys showing children his craft. Jonathan Mizrahi's new cookbook walks children through every step of launching their own version of a food stand, from making a business plan to picking the right time and location, advertising the event and measuring its success. His simple example of a lemonade stand leads children through all aspects of selling the food and beverages they create.
"Little Chefs Rolling in Dough" includes cooking basics, and the book is filled with easy-to-prepare recipes like bagel dough, butterfly pretzels and chocolate-dipped spoons. One of the more unusual recipes is frozen bananas with Pop Rocks. Mizrahi deftly covers beverages as well, from lemonade and root beer floats to raspberry hot chocolate. Each recipe includes a list of the tools and ingredients, as well as a chart that lists costs, suggested pricing and potential profit. A glossary of cooking terms, and colorful graphics and drawings by Leah Reed complete this resource for young people interested in starting their own business.
This is the first cookbook for Northern California chef Jonathan Mizrahi, who completed culinary school and has a bachelor's degree in business and marketing. He and his wife enjoy combining travel with culinary adventures. Illustrator and graphic artist Leah Reed has worked on children's book and small business graphics, as well as producing Japanese manga and equine art. She lives in Sacramento, Calif.
----------
For additional information, please visit http://www.littlechefsrollinginthedough.com
Little Chefs Rolling in Dough
Jonathan Mizrahi
Dog Ear Publishing
ISBN: 978-1-4575-1574-3
54 pages
$22.95 US
Available at Ingram, Amazon.com, Barnes & Noble and fine bookstores everywhere.
About Dog Ear Publishing, LLC
Dog Ear Publishing offers completely customized self-publishing services for independent authors. We provide cost-effective, fast, and highly profitable services to publish and distribute independently published books. Our book publishing and distribution services reach worldwide. Dog Ear authors retain all rights and complete creative control throughout the entire self-publishing process. Self-publishing services are available globally at http://www.dogearpublishing.net
and from our offices in Indianapolis.
Dog Ear Publishing – self-publishing that actually makes sense.