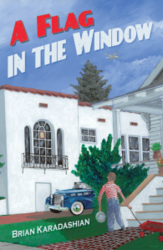 Scenes right out of a Norman Rockwell painting capture the language and images of the mid 1940s in this children's historical novel.
Escondido, CA (PRWEB) March 28, 2013
All 12-year-old Billy Roarke wants is to have his father back safe and sound. His father, an engineer, is serving with paratroopers in England during World War II. This debut novel features a look at wartime through the eyes of a boy on the cusp of becoming a young man. Although he and his mom live fairly comfortably in Pasadena, far from the front lines, an unexpected event will change their lives forever.
In "A Flag in the Window," Billy and his mother go about their daily lives, with Billy hanging out with friends when he's not at school and his mother working in a parachute factory in Los Angeles. When Billy gets expelled from school for badly beating a boy, he gains a new set of friends – and a new respect for authority – at military school. Scenes right out of a Norman Rockwell painting capture the language and images of the mid 1940s in this children's historical novel. A soda jerk at the pharmacy serves up stories about his days in World War I as he dishes up malts and shakes, and the Roarkes host a pair of servicemen for Christmas dinner. Ultimately, it's up to Billy to take responsibility for his actions and take the first steps to becoming a man.
This is the first novel for elementary school teacher Brian Karadashian, who's had articles published in the Los Angeles Herald-Examiner and the Dallas Times Herald. Karadashian, who earned a bachelor's degree from San Diego State University and a master's degree from Stanford University, teaches in San Diego. He and his wife, Marcia, have two grown stepchildren and live in Escondido. The cover art is by Richard DeRosset, a maritime and aviation historian who serves as the official artist for the San Diego Maritime Museum and is an official U.S. Coast Guard artist.
----------
For additional information, please visit http://www.briankaradashianbooks.com.
A Flag in the Window
Brian Karadashian
Dog Ear Publishing
ISBN: 978-1-4575-1603-0 180 pages $10 US
Available at Ingram, Amazon.com, Barnes & Noble and fine bookstores everywhere.
About Dog Ear Publishing, LLC
Dog Ear Publishing offers completely customized self-publishing services for independent authors. We provide cost-effective, fast, and highly profitable services to publish and distribute independently published books. Our book publishing and distribution services reach worldwide. Dog Ear authors retain all rights and complete creative control throughout the entire self-publishing process. Self-publishing services are available globally at http://www.dogearpublishing.net
and from our offices in Indianapolis.
Dog Ear Publishing – self-publishing that actually makes sense.