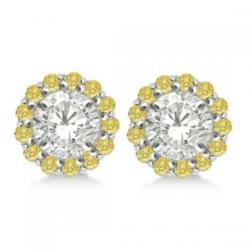 Colored diamond earring jackets frame diamond studs to create a new piece of jewelry art.
New York, New York (PRWEB) March 27, 2013
Fashion forward thinkers are always looking for new ways to turn traditional styling into powerful new designs. The beauty of transforming a most beloved object into something even more loved is the basic principle behind diamond earring jackets from Allurez
A jewelry buyer at Allurez, a leading on-line jewelry store said, "The idea of an earring jacket is quite simple, it's really like a frame around a picture, it accents the object within it. Women love the idea of being able to transform their studs into an entirely new look. Even the smallest studs take on new life."
Savvy jewelry makers are thinking outside the box to design new 'nests' for their customers existing studs. Along with earring jackets designed to hold specific size studs more securely, the inclusion of colored diamonds and unique shapes are taking center stage.
"We thought it was very important to introduce an entire line of diamond and fancy diamond earring jackets that are designed to fit very specific carat size studs. It helps the buyer determine exactly what size earring jackets they prefer to meet their individual needs."
By eliminating the guess work, jewelers like Allurez are turning their attention to creating even more awe inspiring earring jackets with the inclusion of colored diamonds and gemstones. A dazzling pair of yellow or blue diamond earring jackets, with up to 1 full carat of fancy colored diamond bling, can fit earring studs up to 8mm or 1 ½ carats each. No matter what size diamond stud you have, the right jeweler can tell you exactly what size jacket will best frame your earrings and create an entirely new piece of jewelry art.
Allurez is an established designer and retailer offering loose diamonds, diamond engagement rings, earring jackets and other fine jewelry. In addition they provide an opportunity to create your own engagement ring, choose the perfect push present, birthstone and anniversary jewelry and more. They are headquartered in New York where they have multiple offices. Their mission is to provide customers with high end jewelry at affordable prices, and to educate the public about the jewelry industry including industry trends. You can visit them online at http://www.allurez.com