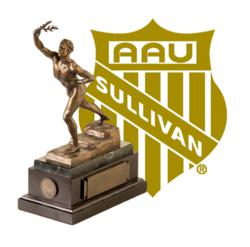 (PRWEB) March 27, 2013
Lake Buena Vista, Fla.– The Amateur Athletic Union (AAU) today announced that three finalists have been named for the 2012 James E. Sullivan Award, which honors the nation's outstanding amateur athlete. The Sullivan Award has been presented annually since 1930, and is based on character, leadership and sportsmanship. Notable recipients of the AAU Sullivan Award include: Mark Spitz, Jackie Joyner-Kersee, Florence Joyner, Peyton Manning, Michael Phelps, J.J. Reddick, Tim Tebow, and Shawn Johnson.
"I am very excited about the finalist selected for this year's AAU James E. Sullivan Award," said Henry Forrest, President of the AAU. "These young women and men are the best and the brightest among the hundreds of thousands of amateur athletes. Not just on the court, in the gym or in the water, these outstanding athletes demonstrate character and leadership in their communities as well. I look forward to meeting the three finalists and congratulating them on their achievements."
The finalists originated from 15 semifinalists that were each nominated by their sport's national governing body or university's athletic department. The winner has been determined through a public voting, accounting for one-third of the votes, as well as voting by the United States National Governing Bodies and Division I Athletic Directors and Sports Information Directors. The winner will be honored at an awards ceremony on Tuesday, April 16th at the AAU National Headquarters in Orlando, Fla.
Finalists for the 2012 James E. Sullivan Award from the AAU:
Darren Barnes
USA Weightlifting
Darren Barnes is a competitive lifter for USA Weightlifting who set six national records at the 2012 World Junior Championships. Most recently, he set two records at the American Open, qualifying him for the 2013 World Junior Championships. While competing competitively, Darren still managed to graduate from high school with a 4.0 GPA.
Liz Brenner
Oregon Volleyball, Basketball, Softball
A three-sport athlete at the University of Oregon, Liz Brenner became Oregon's first underclassmen volleyball All-American and helped the Ducks to a NCAA runner up finish this past season. She's also taking her talents to the hardwood and the track to finish up her sophomore year. As a freshman, Liz was an All-Pac-12 Freshman Team volleyball choice and also played basketball and softball.
Missy Franklin
USA Swimming
Missy Franklin left the 2012 Olympics as the most decorated female of the Games from any country or in any sport, earning a total of five medals—four gold and one bronze. She broke Olympic and World records in the 100m and 200m back. Outside of the pool, Missy has worked with the Multiple Sclerosis Association of America and Make-A-Wish Foundation, all while maintaining a 4.0 GPA.
About the AAU
Founded in 1888, the Amateur Athletic Union (AAU) is one of the largest, non-profit, volunteer, sports organizations in the United States. The philosophy of "Sports for All, Forever," is shared by over 500,000 participants and over 50,000 volunteers. The AAU is divided into 57 distinct Districts which annually sanction more than 34 sports programs, 250 national championships, and over 30,000 age division events. A multi-sport organization, the AAU is dedicated exclusively to the promotion and development of amateur sports and physical fitness programs.
###