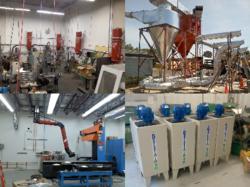 They offer a solid solution for cleaning up air in large plant areas. Packaged air filtration units with proper controls really outperform dust collection systems; They are cost-effective. (Jeff Zvolanek, Industrial Maid, on T-3000 unit)
West Springfield, MA (PRWEB) March 27, 2013
The INDUSTRIAL MAID T-SERIES air cleaners are the industry leader in "Free Hanging" ambient air filtration. Its features and benefits make it the lightest and best performing air pollution control system in the business.
Over the years, Aquest has had a long standing relationship with EASTEC and SME (Society of Manufacturing Engineers) and is proud to be exhibiting once again at New England's largest trade show.
EASTEC is the perfect venue to show advances in technology and unveil new product lines. Aquest will not only be giving away an Industrial Maid Air Cleaner, but promoting the completion of the QUEST AIR OM500 Oil Mist Collector.
The Quest Air OM500 is unitary in design and can be hung from the ceiling, set on the floor, or placed on top of a CNC machine. It has a small footprint with a base of 16" by 16". There is little operational and maintenance costs associated with the unit.
Both of these units are highly competitive in technology and price, but what sets them apart from their competitors are their low energy consumption, filter longevity, and plug and play design.
Aquest Corporation is a 26 year old environmental engineering firm located in Somers, CT. Aquest designs, engineers, installs, and services a complete line of industrial air filtration and air pollution control systems: air cleaners, dust collectors, oil mist collectors, weld smoke collectors, portable fume extractors, paint and blast booths, filters, parts, and service.
Aquest Corporation has been in the business of providing affordable solutions to customers and takes pride in representing high quality American-made equipment.
Over the course of the past three to four years, OSHA has cracked down on manufactures in the Northeast. It is important to be familiar with the regulations regarding dust.
Aquest offers OSHA compliant dust collection systems and brings extensive experience and knowledge in interpreting the regulations and installing large scale combustible dust collection systems.
It is important to keep in mind that dust collection systems can range in size and shape, and they can be used in multiple applications to improve processes and efficiency.
Do you have dust issues in your facility? Do employees complain about lingering fume and odor issues from a process? Is it hard to breathe due to oil mist accumulation in the air of your facility?
Please consider Aquest Corporation for all your future air filtration and air pollution control needs. Aquest can be found at 626 Main Street in Somers, CT (860-749-3938).