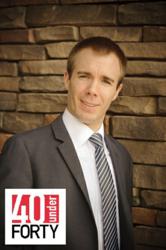 Dayton, OH (PRWEB) March 26, 2013
The Dayton Business Journal has named the winners of the 2013 40 Under Forty awards program and Julien Biteau, Manager of Strategic Sourcing with Corbus, LLC, has been awarded this accolade.
"Receiving this award is an honor," stated Mr. Biteau. "Staying involved in my community and working with a successful company such as Corbus both represent important parts of my life, so such recognition is very meaningful to me."
Julien volunteers at diverse cultural and sports organizations within the Miami Valley; he is a Bell Board Member of Carillon Historical Park; a Chair of International Activities at the Oakwood Sister City Association; a youth soccer coach and an alumni career mentor at the University of Dayton. Julien holds two Master Degrees: an MA in International Business from Pau Business School in France and an MBA from the University of Dayton. Mr. Biteau is a native of France and recently became a US citizen. He speaks French, English, Spanish, German and Portuguese. Julien enjoys spending time outdoors with his wife and three daughters.
40 Under Forty is the premier awards program honoring young professionals in the Dayton region. This year's winners were chosen from a group of more than 250 total nominations, a record number of entries that made it an extremely competitive race for being honored this year. The winners each year are chosen by a selection of judges who consider the nominees' achievements in their career as well as their leadership and community activities.
This is the second annual win of this award for a Corbus executive. In 2012, Anand Ponnuswamy, Global Delivery Head of Strategic Sourcing for Corbus, received the award.
Corbus, LLC, a minority owned, global solutions provider founded in 1994, offers Information Technology (IT), Sourcing and Procurement and Business Process Management (BPM) related services and solutions across a variety of industries. Using a global delivery model, including multilingual and multicurrency flexibility, these services provide value by improving client business processes, reducing operating costs, improving product quality and extending global capabilities. With a focus on innovation and flexibility, Corbus nurtures each relationship to become a partner of choice for its clients. For more information, visit http://www.corbus.com.
Corbus is a global organization, headquartered in North America with a presence in Europe and Asia Pacific markets. Corbus is a wholly owned subsidiary of Soin International LLC, a private multi-national holding company that provides strategic management, administrative systems, and financial support to a diverse array of worldwide subsidiaries and affiliates.