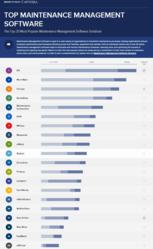 Without a properly functioning building, your business can't operate.
(PRWEB) March 28, 2013
Capterra, an online service that connects buyers and sellers of business software, released its latest infographic today. The Top 20 Most Popular Maintenance Management Software Solutions names IFS, MicroMain, and Corrigo as the top three most popular maintenance management software products on the market.
"Almost any industry you can think of needs a way to track and maintain their buildings and equipment," said Capterra CEO and President, Michael Ortner. "Without a properly functioning building, your business can't operate. So, maintenance management software is important for everything from factories and schools to office buildings and zoos."
Also known as Computerized Maintenance Management Systems (CMMS), maintenance management software is used to automate routine tasks and keep track of scheduled maintenance service calls. The top 20 solutions were determined using Capterra's popularity index, which takes into account each company's number of customers, users, and online social presence.
"We realize that there's no perfect measure when it comes to popularity," said Ortner. "But, we believe that these three data points together are a great indicator of what's going on in the industry."
This is the Capterra's ninth popularity infographic. Each one looks at a different type of software. Previous infographics included the top 20 in customer relationship management, field service management and marketing automation software.
About Capterra
At Capterra, we believe software makes the world a better place. That's why we love connecting buyers and sellers of business software. Our website shows companies all of their options and provides free tools to help them make the right decision. We provide software companies with a free listing on our comprehensive directory and give them the opportunity to upgrade for more exposure. For more information, visit http://www.capterra.com.