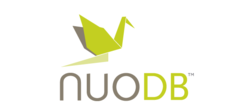 As more companies take advantage of the benefits of cloud services, NuoDB on AWS offers our customers another platform on which to leverage the cost-effectiveness and elasticity of the cloud.
Sajai Krishnan, General Manager, AWS Marketplace
Cambridge, MA (PRWEB) March 26, 2013
NuoDB, Inc., the pioneer in cloud database and Cloud Data Management System (CDMS), today announced the immediate availability of the NuoDB Starlings release on Amazon Web Services (AWS) Marketplace and their selection as a member of the AWS Partner Network (APN) in the category of Standard Technology Partner.
Making the NuoDB Starlings release available on AWS Marketplace dramatically simplifies and accelerates the delivery of the NuoDB's high performance and elastically scalable database to AWS customers. The combination of NuoDB running on the AWS Marketplace offers customers an easy to use, multi-tenant and fault tolerant cloud database able to run multiple instances simultaneously.
NuoDB's patented database also offers customers a seamless path to move their live on-premise database to AWS without any disruption in service. With NuoDB on Amazon, customers simply start a new database instance on AWS and NuoDB automatically synchronizes the two. Customers can choose to shut down the on-premise database instance and retain only the one on AWS. Thus it's easy to move an entire live database to the Amazon cloud.
"We are excited to have the NuoDB offering in the AWS Marketplace," said Sajai Krishnan, General Manager, AWS Marketplace. "As more companies take advantage of the benefits of cloud services, NuoDB on AWS offers our customers another platform on which to leverage the cost-effectiveness and elasticity of the cloud."
"NuoDB is the only cloud database designed around the characteristics that make the cloud so appealing: scalable, elastic and distributed," stated Barry Morris, CEO and Co-Founder of NuoDB, Inc. "Making NuoDB available in the AWS Marketplace is one more significant step forward in our providing maximum benefit to developers building in the cloud."
Benefits for AWS Customers
NuoDB on AWS Marketplace provides customers with the ability to:

Scale elastically and pay for only what they need when they need it;
Manage multiple geo-distributed active-active databases on AWS instances;
Secure multi-tenancy for hosting multiple isolated pluggable databases on the same virtual machine;
Eliminate the need for costly idle backup and recovery systems;
Seamlessly switch databases between on-premise and the cloud.
Customers can start using NuoDB on AWS Marketplace today by clicking here:
About the NuoDB Starlings release
The NuoDB Starlings release features elastic scalability with high performance, SQL compliance and guaranteed ACID transactions. The release, first made generally available on January 15, 2013, eliminates the need for the complex database workarounds that are typically associated with bringing applications to the cloud such as clustering, performance tuning and sharding.
About NuoDB
NuoDB, Inc., is a Cambridge, MA-based technology leader that provides the industry's patented, elastically scalable Cloud Data Management System (CDMS). Unlike every other database, NuoDB is architected to scale out effortlessly on the cloud without compromising any of the features or guarantees of relational databases.
NuoDB customers include AutoZone, NorthPoint Solutions and ComplianceMetrix.
NuoDB was launched in 2010 by industry-renowned database architect Jim Starkey and accomplished software CEO Barry Morris.