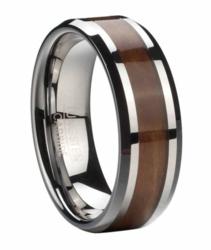 In addition to everyday low prices, online store JustMensRings.com is now offering complimentary shipping on all men's rings, wedding bands and jewelry items.
Jensen Beach, FL (PRWEB) March 27, 2013
For the first time in the history of the website, online jewelry store JustMensRings.com (JMR) has extended complimentary shipping in the United States to all men's rings, wedding bands and jewelry items, regardless of price. In business since 2006, the retailer previously offered free shipping on all orders over $99. However, the popularity of seasonal complimentary shipping promotions has led JMR to continue offering this benefit to customers indefinitely.
A major contributing factor to JustMensRings.com's switch to site-wide complimentary shipping was the existence of similar promotions on competitor websites. Wanting to increase the store's visibility and competitive edge, Just Men's Rings' president and owner Roy Devine decided to test complimentary shipping on orders under $99. During the 2012 holiday season, shipping without charge was extended to purchases above $49, an offer that was enthusiastically received by customers. After that successful initial test, Mr. Devine decided to try complimentary site-wide shipping in conjunction with the company's 2013 Valentine's Day Sale promotion, and sales jumped even further.
Since Valentine's Day JustMensRings.com has continued to offer shipping without charge on all purchases made on the site, and sales numbers and net profits have only continued to increase exponentially. Of course, the store's rising position in the online marketplace is not just due to complimentary shipping offers alone. The site has long been known for offering everyday low prices on men's rings, wedding bands, designer rings and jewelry. JustMensRings.com has thousands of styles of men's rings on the site, ranging from traditional gold wedding rings to modern black titanium fashion rings. In addition to a substantial number of affordable men's rings, JMR carries designer rings by the high end brand Benchmark. The website also boasts one of the biggest selections of men's large size rings online.
"Right now, Just Men's Rings is at a very exciting place," notes Mr. Devine. "Our sales have been through the roof and people have come to recognize us as a brand. At the same time, we're not about to rest on our laurels, and we're constantly looking for new ways to stand out in the marketplace and offer even more benefits to our customers."
Shoppers are encouraged to shop soon to enjoy complimentary shipping on all products at JustMensRings.com, as this length of this promotion has not yet been determined. In addition to the current complimentary shipping promotion, Just Men's Rings always offers below retail prices on men's rings and wedding bands in materials including titanium, tungsten, gold, platinum, palladium, sterling and Argentium silver, cobalt chrome, diamonds, ceramic and stainless steel. All items have a 30 day money back guarantee, and designer rings have a manufacturer-backed Lifetime Guarantee.
About JustMensRings.com
At internet-only retailer Just Men's Rings, customers have come to expect the best possible prices on an extraordinary selection of men's rings and jewelry for men, as well as the highest standards of service, selection and quality. The proof is in the numbers: JustMensRings now offers the largest selection of men's fashion rings online, and is the only store in the United States that offers men's large size rings up to size 20. JustMensRings leads the competition with an unparalleled assortment of unique and alternative men's wedding rings in a range of traditional and contemporary materials including gold, platinum, palladium, titanium, tungsten, silver, stainless steel, cobalt chrome and Seranite (or ceramic). Despite the recent rise in gold prices, JustMensRings continues to keep item pricing low and affordable, and shoppers would be hard-pressed to find better deals elsewhere. JustMensRings is dedicated to providing its customers with a simple and secure online shopping experience, and offers a 30 day guarantee as well as complimentary shipping in the United States for all products.
For more information on JustMensRings, please visit http://www.justmensrings.com.
For further information, please contact:
Roy & Judy Devine, Owners
800-797-9773
roy(at)justmensrings(dot)com