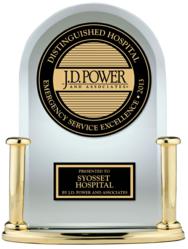 SYOSSET, NY (PRWEB) March 26, 2013
The Syosset Hospital Emergency Department has been recognized for service excellence under the J.D. Power and Associates Distinguished Hospital Program. This distinction acknowledges a strong commitment by the hospital to provide "an outstanding experience."
"Earning this distinction for emergency services speaks volumes about the commitment Syosset Hospital provides to its emergency patients," according to J.D. Power and Associates. "They have the ability to provide outstanding service from the moment patients arrive at the hospital to the time they are discharged."
The service excellence distinction was determined by surveying recently discharged patients about their perceptions of their hospital visit, and comparing the results to the national benchmarks established in the annual J.D. Power and Associates' National Hospital Service Performance Study.
The telephone-based research conducted among Syosset Hospital patients focuses on the five key drivers of patient satisfaction: speed and efficiency, dignity and respect, comfort, information and communication, and emotional support.
Syosset Hospital exceeded the J.D. Power and Associates' National Patient Experience Study benchmark study score for emergency patient satisfaction. The hospital performed particularly well providing tests and procedures through nursing care.
Patients rated Syosset Hospital highest for the courtesy of doctors and nurses in delivering care with dignity and respect. Patients were highly satisfied with the emotional support they received from Syosset emergency staff, indicating they had confidence and trust in doctors' skill level and how well they treated family and friends.
"Our goal at Syosset Hospital is to make the patient experience as smooth and comfortable as possible," said Michael Fener, executive director of Syosset and Plainview hospitals. "This J.D. Power award is a demonstration of the outstanding care provided by our medical professionals and staff. I extend my deepest thanks to community residents for their continued support."
Syosset Hospital previously received this recognition for its emergency department in 2006 and 2008. The hospital has also received accolades from J.D. Power and Associates for its inpatient services in 2004, 2005, 2006 and 2008.
Nongovernmental, acute-care hospitals throughout the nation are eligible for the J.D. Power and Associates Distinguished Hospital recognition for inpatient, maternity, cardiovascular, emergency and outpatient services. Distinction is valid for one year, after which time the hospital may reapply for this recognition.
About Syosset Hospital
Syosset Hospital is a full-service community hospital with an inpatient Medical-Surgical Unit, a Telemetry Unit and an Intensive Care Unit. In addition, it offers specialized surgical services in a state-of-the-art-facility with advanced surgical technology. The hospital's Emergency Department, open 24 hours a day, 365 days a year, has received exceptionally high patient-satisfaction ratings in the Press Ganey patient surveys. The Syosset Emergency Department is a New York State Department of Health Primary Stroke Center. The hospital has three major surgical/procedural programs including bariatric, ophthalmology and pain management.
About J.D. Power and Associates
Headquartered in Westlake Village, Calif., J.D. Power and Associates is a global marketing information services company providing forecasting, performance improvement, social media and customer satisfaction insights and solutions. The company's quality and satisfaction measurements are based on responses from millions of consumers annually. For more information on car reviews and ratings, car insurance, health insurance, cell phone ratings, and more, please visit JDPower.com. J.D. Power and Associates is a business unit of The McGraw-Hill Companies