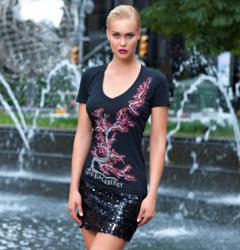 I believe in the concept of a lasting impression. Hence at Wild-Blackberry.com, we have focused on doing one thing and doing it superbly.
Redwood City, CA (PRWEB) March 27, 2013
Wild-Blackberry.com, an e-retailer, launched a new product called The Sophisticated Tee for the chic and benevolent. Each unique graphic design within the collection is a tribute to overlooked and impoverished societies with a focus on ancient cultures and history. Twenty percent of net profits fund small loans globally for micro-businesses.
Wild Blackberry's collection of Sophisticated Tees TM establishes a standard for high-end and unique graphic tees. The founder, Tara Leach, said, "I aim to provide striking and elegant graphic designs with vibrant colors, which are fashionable and unlike any other." With its recent launch, Wild-Blackberry.com has distinguished itself from its competition by refining the designer tee.
The Sophisticated Tee TM is worn with the finest fashions and meant to be the centerpiece of an ensemble. It is made in the USA of 100% combed ring spun cotton with a slight stretch for luxurious comfort. Each design is globally inspired with an emphasis on the world's historical diversity. It was critical to the founder of Wild Blackberry to create an array of chic graphic designs that would appeal to varying fashion aesthetics for cosmopolitan women and men.
The founder of Wild Blackberry has a keen eye for detail and an unrelenting pursuit for daring authenticity. She said, "I believe in the concept of a lasting impression. Hence at Wild-Blackberry.com, we have focused on doing one thing and doing it superbly."
Wild Blackberry is using its product, The Sophisticated Tee, to promote its global social cause. Its business premise, 'Giving Back with Style', provides accessible business loans to persons in underprivileged societies with the intent of alleviating poverty. Cultivating change and increasing support for many great, overlooked societies through entrepreneurship is Wild Blackberry's mission.
Wild-Blackberry.com has an elegant and user friendly website layout that complements its unique collection of Sophisticated Tees. All clients can exclusively shop with complete confidence because the site is 100% secure and all credit card transactions are processed safely. Wild-Blackberry.com offers free domestic shipping in the USA and flat rate international shipping world-wide.
Wild Blackberry offers cultured and unique tee designs for cosmopolitan women and men. Its design inspiration is derived from the world's distinct cultures and extensive history. Sophisticated Tees are more than high end, unique garments. The Sophisticated Tee is generating an increased awareness for the forgotten and empowering the underprivileged with micro-loans for entrepreneurship.
Upgrade your designer tee to a Sophisticated Tee or for more information about 'Giving Back with Style', visit http://www.Wild-Blackberry.com.