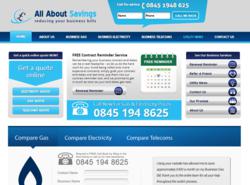 What we have aimed to do ever since we came up with our vision for All About Savings is to make a website that is easy to use and engaging as it is information laden and useful.
(PRWEB UK) 27 March 2013
Businesses from across the United Kingdom are now saving a fortune after using All About Savings to save money on their business gas. The service was only launched last year but they have already ensured that at least 68% of the business customers that have used services such as their comparison service have saved money of their business gas.
With the recession continuing to hinder companies across the country, it has become more important than ever for small and medium sized businesses to save as much money as they can on their utilities so they can use this extra cash on the most important aspects of their business. For example, the extra money that organisations are spending on the gas could be spent on better quality machinery, a staff member or even advertising.
"The feedback from the businesses that have used our service this year so far has been extremely positive. By saving substantial amounts of money on their business gas bills, they have been able to invest on things that can actually enhance their levels of quality and customer service. This has the obvious positive repercussions on their output and profits. We really couldn't be happier about this and hope it continues in earnest throughout 2013 and beyond," said Jo Brookes, Online Marketing Manager of All About Savings.
All About Savings have now provided over 1000 business gas quotes since their inception, which has given them some great sample data to analyse. What has been extremely pleasing to see is that businesses are reaping the benefits of their service in what are still very trying times for small and medium sized business in the United Kingdom.
As well as the all-important monetary savings that can be made by businesses using the All About Savings website, this obviously frees up valuable resource and time that would usually be spent scouring the web for the very best business gas prices. This also has the obvious benefits as this very valuable time can also be spent doing things that can actually generate revenue for the business in question.
http://www.allaboutsavings.co.uk have been able to offer this service due to the panel of financial experts they have at their disposal. The business gas market is one that never stops changing and as such, it is important to get the very best guidance on what has become a minefield of a sector. That is exactly what is provided at All About Savings whether this is via the telephone or the easy to use call back form that can be easily located through any section of the site.
"What we have aimed to do ever since we came up with our vision for All About Savings is to make a website that is easy to use and engaging as it is information laden and useful. We knew there was no point having the expertise we have in the business gas arena if we didn't have the interface to back it up. We truly believe we have achieved that though our design and current client feedback seems to be indicative that we have been pretty successful. More changes are planned for 2013 as we continue to make All About Savings the most comprehensive business gas website available in the United Kingdom," continued Jo Brookes.
All About Savings can be contacted by navigating straight to the site and filling in the no obligation call back form. Alternatively, they can be called on 0845 1948 625 – their representatives are ready and waiting to take any calls regarding any aspect of business gas and a range of other utilities.
To find out more about business gas right away, simply click this link.